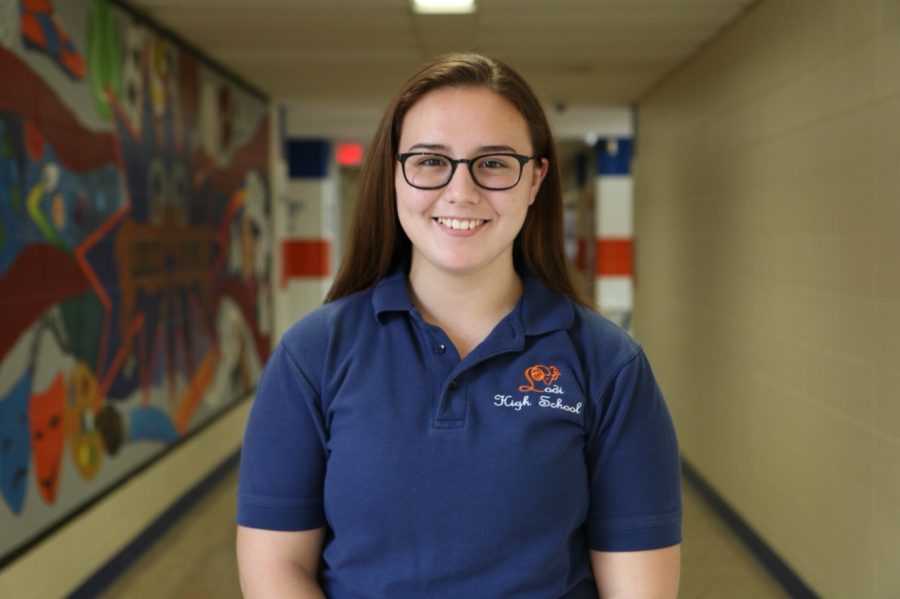 Q:Why did you decide to be a member of the Lodi Rampage? 
A: "Lodi Rampage seemed to be a perfect fit for me. I have a great interest in videography/photography and writing. I love that it is filled with creative people who enjoy doing the same thing as me."
Q:Is there a reason you like being behind the camera instead of in front of it?
A: Jen says that being behind the camera gives her the opportunity to portray her vision. She is not someone who always enjoys the spotlight so that is also a big reason. She enjoys capturing great moments.
Q:What are you looking forward to most about junior year?
A: Jen is looking forward to the advantages of being an upper classman. She is excited to be seeing her life moving on with things like college, SAT's, and senior year just around the corner.
Q:What is your go to favorite meal? 
A: Jen's favorite food, hands down, would be Chinese --Chicken and Broccoli.
Q:If you could listen to one music artist for the rest of your life who would it be? 
A: Jen would listen to the Zac Brown Band.
Q:What is your biggest goal this year? 
A: Jen is striving to get a perfect score on her SAT.  
Interviewed by Christopher Caban
Jennifer Mahon, Contributor
Jun 21, 2018

PUBLIC SERVICE ANNOUNCEMENT: The Senior Video

(Media)

Jun 20, 2018
Jun 20, 2018
May 31, 2018

One Track Mind

(Story/Media)

Apr 19, 2018

Pump up the Jams! 🏋

(Media)

Mar 27, 2018

17 Minutes of Honor and Inspiration

(Media)

Feb 13, 2018

A Valentine's Day at the Bristol Manor

(Story)

Feb 13, 2018

Court is in Session

(Story/Media)

Feb 01, 2018

Smile, Sparkle, Shine!

(Story/Media)

Dec 21, 2017

Christmas with CeeLo

(Media)

Nov 21, 2017

Minute to Win It: 60 Thankful Seconds

(Media)

Nov 21, 2017

In the End… Zone

(Story/Media)

Oct 30, 2017

A Guide to Halloween Etiquette

(Media)

Oct 05, 2017

Football with a Twist

(Media)

Sep 21, 2017

Freshmen are Friends, Not Food

(Media)

Jun 21, 2017

A New Chapter Begins

(Story)

Jun 20, 2017

LHS Teachers' Last Lesson

(Media)

Jun 20, 2017

Seniors Say Goodbye

(Media)

Jun 20, 2017

Ram Wars- The Seniors Strike Back

(Media)

Jun 13, 2017
May 20, 2017
May 19, 2017
May 19, 2017

Who Knows Who Best?: Student-Teacher Edition

(Story/Media)

May 19, 2017

A Day in the Life of Mrs. Pacelli

(Story)

May 05, 2017

A Day in the Life of Danielle Devers

(Story)

May 05, 2017

A Day in the Life of Paola De La Cruz

(Story)

Apr 13, 2017

A Day in the Life of Nicolette Maggiore

(Story)

Apr 13, 2017

A Day in the Life of Keyla Crespo

(Story)

Mar 30, 2017

A Day in the Life of Emily and Angelica Herman

(Story)

Mar 30, 2017

A Day in the Life of Emma and Kylie Bernardo

(Story)

Mar 30, 2017

A Perfect Fairytale Ending

(Story/Media)

Mar 09, 2017

Mathematician Madness

(Media)

Mar 09, 2017

A Day in the Life of Samantha Guerra: A Future Marine

(Story)

Mar 09, 2017

A Royal Invitation to Cinderella

(Story)

Feb 14, 2017

Taking It to the Net: Lodi Basketball

(Story/Media)

Feb 14, 2017

Are You From Tennessee?

(Story/Media)

Feb 14, 2017

2, 4, 6, 8… All of the Counselors We Appreciate

(Media)

Feb 14, 2017
Jan 19, 2017
Jan 19, 2017

A Day in the Life: Students of LHS

(Media)

Dec 23, 2016

New Year, New Resolutions

(Media)

Dec 23, 2016

12th Day of Christmas

(Media)

Dec 11, 2016

The First Day of Christmas

(Media)

Nov 23, 2016

Marching With the Rams

(Story/Media)

Nov 23, 2016

Thanksgiving Traditions

(Media)

Nov 23, 2016

A Time to Give Thanks

(Media)

Nov 10, 2016

A Day in the Life of Juan Ramirez Sanchez

(Story)

Nov 10, 2016

A Day in the Life of Dania Mehyo

(Story)

Nov 10, 2016

Wrapping Up the Rackets

(Story/Media)

Nov 01, 2016

Beauty and Brains: A Transformation

(Media)

Oct 31, 2016

A Day in the Life as Cristina Yang and Meredith Grey

(Story)

Oct 31, 2016

A Day in the Life as Cosmo and Wanda

(Story)

Oct 31, 2016

Haunted High School

(Media)

Oct 13, 2016

A Day in the Life of Natalie Romero

(Story)

Oct 13, 2016

A Day in the Life of Mary Margaret Breny

(Story)

Oct 13, 2016

Get Your Kicks On

(Story/Media)

Sep 29, 2016

A Day in the Life of Shreejan Mistry

(Story)

Sep 29, 2016

Staff Throw it Back to Their Senior Year

(Media)

Sep 29, 2016

Can You Dig it?

(Story/Media)

Sep 18, 2016

A Day in the Life of Eni Saliaj

(Story)

Sep 18, 2016

A Day in the Life of Matthew Russo

(Story)

Sep 18, 2016

Freshmen Aren't the Only Newbies

(Media)