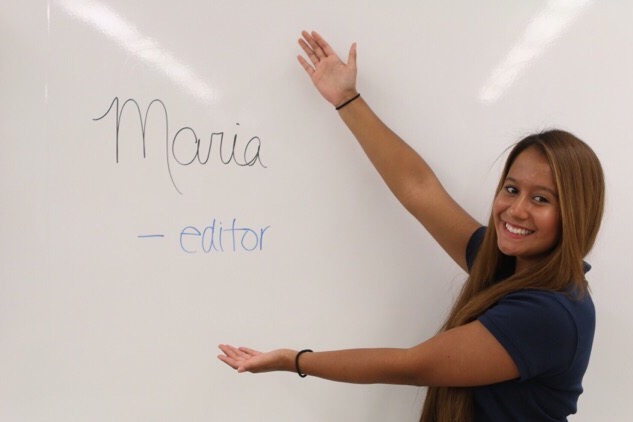 Q: If you could be any type of animal, which animal would you be and why?
A: I'd be a white Siberian tiger because it's majestic and elegant.
Q: What do you do on your free time? (Apart from school)
A: On my free time I like to read, write stories, and watch movies, all while cuddling with Princess, my cat, but I like to cuddle with Zdravko more!
Q: How would you describe yourself in only five words?
A: I'm intelligent, outgoing, friendly, school-spirited, and weird.
Maria Menendez, Editor
Apr 21, 2016
Mar 31, 2016

Scholarships to Pave YOUR Way

(Story)

Mar 17, 2016

William Paterson Visits Lodi!

(Story)

Mar 17, 2016

The History of St. Patrick's Day!

(Story)

Mar 03, 2016
Mar 03, 2016

Mascot's Acceptance Round 2!

(Story)

Mar 03, 2016

Academy Students Visit Felician

(Story)

Feb 12, 2016

Thanking Our Counselors

(Story)

Feb 11, 2016
Jan 31, 2016

Instant Decision Day – Arrive, Apply … Accepted!

(Story)

Jan 14, 2016

College Weekly – Instant is Instantly Back!

(Story)

Jan 14, 2016

FASFA Got Way FASTA

(Story)

Dec 22, 2015

A Concert Full of Christmas Spirit

(Story)

Dec 10, 2015

Power Through Your SAT!

(Story)

Nov 24, 2015

Feast Your Eyes On These Traditions!

(Story)

Nov 15, 2015

Class Level Advice – Fund Your Way!

(Story)

Nov 15, 2015

Heroes to the Rescue!

(Story)

Oct 30, 2015

Class Level Advice – Scarier Than a Costume

(Story)

Oct 30, 2015

And Your Homecoming Queen is…

(Story)

Oct 15, 2015

Class Level Advice – Options, Options!

(Story)

Oct 15, 2015

The People Behind Lodi

(Story)

Oct 12, 2015

Bolstering Student Involvement

(Story)

Oct 01, 2015

Class Level Advice – Keeping Informed

(Story)

Oct 01, 2015

College Weekly – Ep. 02 – Dorm or Commute?

(Story)

Oct 01, 2015

The Best Trainer and That's a No Brainer

(Story)

Sep 18, 2015

Class Level Advice – Welcome Back!

(Story)