A Concert Full of Christmas Spirit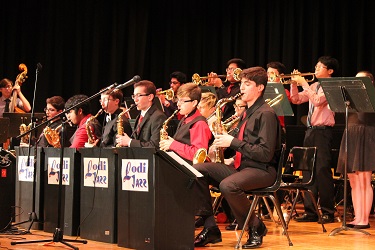 On Tuesday Dec 8, Lodi High School hosted its annual Holiday Concert including pieces performed by the Jazz Band as well as the Concert and Madrigal Choir. The atmosphere was amazing with a full house! So full, people from the audience had to sit on the floor and stand in the entrance to hear the beautiful sounds of holiday music. Special visitors from the North Pole also came to shed Christmas Spirit on all the girls and boys in the audience.
Before the concert began, the LHS PTA handed out awards to some of their members! Congratulations to all recipients! After this award ceremony, the crowd was blown away by the Jazz Band led by their conductor, Dr. Macri! Dr. Macri is a unique character and can always promise that her musicians will put on a stunning performance full of holiday tunes we all enjoy.
For the second part of the Holiday Concert, Dr. Arella entered with the Madrigal Choir to showcase holiday selections, including classics like Riu Riu Chiu and Psalite. Following this small performance, the Concert Choir joined in on the fun and finished off the 2015 Holiday Concert with pieces such as Carol of The Bells and Frosty The Snowman!
As one of the conductors with a successful night, Dr. Arella got to answer a few questions regarding the concert. Here's what she had to say:
1. What kind of vibes and feelings were you getting looking out at crowd?
Doc: "I felt amazing."
2. Have you ever had this many people in the audience before?
Doc: Of course, plenty of times.
3. What was your favorite part of the show?
Doc: I think it had to be when the alumni came and joined us on stage for the O' Holy Night piece.
4. Is there anything you'd like to say to the audience, faculty, and students?
Doc: Lodi High School is the best.
5. Did you feel the Christmas Spirit?
Doc: Of course I did!
And that's a wrap for this year's Holiday Concert. We hope those of you who went enjoyed the atmosphere and great music provided by the band and choir! If you couldn't attend, there's always next year! Below are the pieces of music that have not been mentioned above! Happy Holidays!
Pieces performed by the Jazz Band:
– Christmas Troika
– Bugler's Holiday
– Salute to Old Blue Eyes
– Fireside Christmas
– Christmas at The Circus
Other Pieces performed by the Choir (not included above):
– God Rest Ye Merry Gentleman
– Deck The Halls
– Sim Shalom
– Jingle Bell Rock
– O' Holy Night
About the Contributor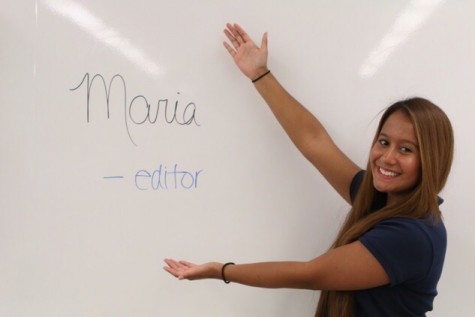 Maria Menendez, Editor
Q: If you could be any type of animal, which animal would you be and why?
A: I'd be a white Siberian tiger because it's majestic and elegant.

Q: What...