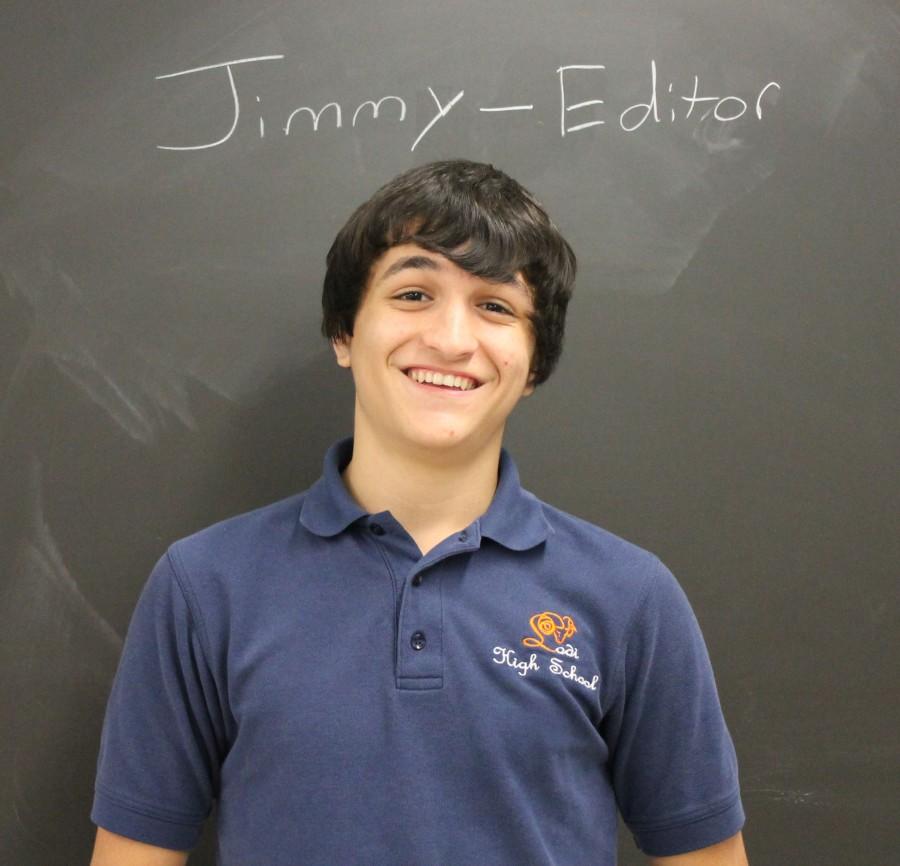 Q: What three words best describe you?
   A: Enthusiastic, obnoxious, and well-rounded.
Q: What do you like doing on your free time?
   A:   I enjoy hanging out with my friends and watching football.
Q: What is your lifelong dream?
A: I'd like to become a journalist for the New York Giants.
Q:What would you like to major in and what college do you plan on attending?
   A: I'd like to major in journalism or communications and I'd like to attend Ramapo College.
Q: If you could be a cartoon character, which one would you be and why?
    A: Timmy Turner because I could see myself making the same mistakes he's made.
Fun Fact: I have a life size cardboard cutout of Eli Manning in my room.
Jimmy Scalia, Editor
May 25, 2015
May 25, 2015
May 25, 2015
May 07, 2015

2015 NFL Mock Draft (1st Round)

(Story)

Apr 22, 2015

Boys Tennis – April 22nd

(Story)

Apr 03, 2015

The Opening Tracks on the Trail Have Begun

(Story)

Apr 02, 2015

DIY: How To Dye Easter Eggs

(Story)

Mar 31, 2015

Badminton Tournament

(Story)

Mar 19, 2015

LHS Volleyball Tournament

(Story)

Mar 19, 2015

DIY: Preparing for Spring

(Story)

Mar 16, 2015

FAFSA Fairy Completion Challenge

(Story)

Mar 05, 2015

Spring Sports Preview (Tennis/Track)

(Story)

Mar 05, 2015

Boys/Girls Playoff Picture

(Story)

Mar 02, 2015

Basketball Recap/Playoff Preparation

(Story)

Feb 12, 2015
Feb 12, 2015

DIY: How To Ask Someone To Be Your Valentine

(Media)

Feb 11, 2015

Weekly Basketball Update – February 2nd

(Story)

Feb 03, 2015

Basketball Weekly Update – January 26th

(Story)

Jan 29, 2015

Lodi Analyst's Super Bowl XLIX Preview

(Story)

Jan 28, 2015

Basketball Weekly Update – January 19

(Story)

Jan 19, 2015

Basketball Weekly Update – January 12

(Story)

Jan 12, 2015

Stuart Scott: A Guy That Was Cooler Than the Other Side of the Pillow

(Story)

Jan 12, 2015

Basketball Weekly Update

(Story)

Dec 22, 2014

DIY: How To Build A Gingerbread House

(Story)

Dec 22, 2014

4 Milestone Christmas Movies

(Story)

Dec 11, 2014

Pinning the Success of the Wrestling Team

(Story)

Nov 25, 2014

DIY: How To Stuff A Turkey

(Story)

Nov 25, 2014

Thanksgiving Football: Tradition at its Finest

(Story)

Nov 13, 2014

Onto the Playoffs!

(Story)

Oct 31, 2014

DIY Costume: Become a ghost in 3 easy steps!

(Story)

Oct 31, 2014

4 Milestone Horror/Halloween Movies

(Story)

Oct 27, 2014

Scandal in the NFL

(Story)

Oct 27, 2014

A Welcomed Homecoming

(Story)

Oct 27, 2014

2014 Powder Puff Game: Seniors Repeat

(Story)

Oct 22, 2014
Oct 08, 2014

"We're On To Waldwick"

(Story)

Oct 06, 2014
Sep 25, 2014

Ms. Getrajdman – The Real G

(Story)

Sep 24, 2014

Clear Eyes, Full Hearts

(Story)

Sep 24, 2014

It's Not About How You Start, But How You Finish

(Story)