Lodi Analyst's Super Bowl XLIX Preview
Both of these teams were 2-2. Both of them were "washed up." Now both them are in the most important game of the season. The New England Patriots and the Seattle Seahawks have found themselves as the representatives of the Super Bowl this year. Patriots' quarterback, Tom Brady, will be looking for his fourth Super Bowl ring, while Seahawks' quarterback Russel Wilson will be looking for his second ring in only his third season. The game is primed for a fierce battle between these number one seeds, but first, lets take a look how they got here.
Last week, Seattle was down 19-7 with about four minutes to play. Russel Wilson had already thrown four interceptions and with the way the offense was playing, the game looked out of reach. But then the impossible happened! A drive capped off by Wilson rushing touchdown, cut the lead to 19-14. The Seahawks attempted an onside kick that went right through the hands of Packers tight end, Brandon Bostick. Seattle recovered, only down by five points. Wilson handed off to the running back, Marshawn Lynch, who made a 24 yard TD run look easy for the lead. Packers' QB, Aaron Rodgers, led his team down the field for an overtime sending field goal. In OT, Russel Wilson redeemed himself by hitting Jermaine Kearse on a game-winning 35-yard TD pass. Seattle proved through adversity they can find a way to win a game. An unsung hero nomination goes to Seattle's defense who kept them in the game throughout the whole 60 minutes.
There was a different story for the Patriots road to Glendale as they absolutely dominated the Indianapolis Colts 45-7 in the AFC Championship last week. Lets admit it, they would've won that game using beach balls. The game before that is where sparks were really flying and showed New England at their best. The Patriots found themselves down 14-0 at one point in the game, as they were also down 14-28 at another point. Guess what? Tom Brady didn't care. He kept bringing the Pats down the field when they needed it most. With that being said, we can't forget wide receiver Julian Edelman throwing a 50+ yard TD to a wide open Danny Amendola, tying the game at 28. Down three, Brady drove down the field again and hit WR Brandon Lafell on a beautiful throw for a go ahead TD. The Patriots survived winning 35-31.
There are also many major X-factors in this game that could cost either team a crucial loss.
#1 – Rob Gronkowski vs. Legion of Boom: There is no way one man can cover Rob Gronkowski. Linebackers are too slow and safeties/corners are too small. Now you might be thinking to yourself that this is a different defense with athletic line backers and bone-crushing safeties, which you would be right. The fact of the matter is that Seattle gave up A LOT of TD's to tight ends this seasons. It seemed every week, it was either Julius Thomas, Antonio Gates (who caught three in one game against them!) or Jason Witten who were scoring against the deadly secondary. Out of all of those tight ends, he who likes to be called "Gronk" is on a different level. The match-up will be note-worthy one.
#2 – Russel Wilson and Marshawn Lynch: There's not a real game-changing player on Seattle's offense, that is besides these two guys. Russel Wilson can outrace you to the end-zone just as easy as he can throw a 60 yard bomb for a touchdown. He has helped redefine the QB position (along with Andrew Luck) by rushing and passing to his advantage.
The other guy is "Beast Mode", other wise known as Marshawn Lynch. The man is unstoppable. Trust me, I had him on my fantasy team this season and he brought nothing but joy. Lynch is the player who gives Seattle their edge. He's not really fast but you can't bring him to the ground! For a running back, he can run you over like he's 300 pounds. Lynch has a lot of off-the-field antics such as refusing to speak to media and attempting to wear illegal gold cleats, but that really doesn't matter because his play on the field absolutely makes up for it, so much that they're thinking of offering him another contract after this season (with a Skittles bonus).
#3 – Strategy (Pete Carroll vs. Bill Belichick): Talking about varied teams/organizations, these coaches couldn't be more different! Carroll is the crazy sideline coach who is always getting his players pumped up, while Belichick is the silent killer who will never make the same mistake twice (at least on the field).
It's pretty unreal how smart Belichick is. I don't know if this guy reads the NFL rules book every night, but it sure seems like it. How about that game against the Ravens? On one play, Belichick had a running back (Shane Vereen) split out wide for a pass, but once the ball was snapped, Vereen went back into the backfield to block. This confused the defense leaving a wide open receiver for a first down. When Ravens' coach, John Harbaugh, saw this play, he ran on the field in protest that the play should have been an illegal shift. The referee threw a flag against the Baltimore sideline for the outburst, as the play was upheld. Belichick had beaten the Ravens with his mind by using the play and Harbaugh's rage to his advantage. So yea, he's pretty good at coaching football.
From the Jets, to the Patriots, to USC, and then to the Seahawks, Pete Carroll had a roller-coaster football ride. By the time he made it to Seattle, not many thought he was their answer. That wasn't until the 2012 season when all of a sudden the Seahawks became fairly good. Everybody looks at the players, but Carroll played a huge role in assembling the group of guys they've had for the past three years. Remember when the Seahawks were 2-2 earlier this season? Not all was well with an offense that wasn't working, a player in Percy Harvin that wasn't fitting (eventually traded to the New York Jets), and a defense that looked sub par. That didn't last long as the offense got back on track and the defense made a stand as the team made a six win run to finish out the regular season. Against Green Bay, he continued to assure his team that they were "OK" and always kept their confidence up even with the huge deficit. Seattle pulled through along with Carroll's words of wisdom.
It's going to be a fight for the ages with the entire country watching a couple guys duke it out on the gridiron of all stages. Good luck Pete and Bill – have a good one.
About the Contributor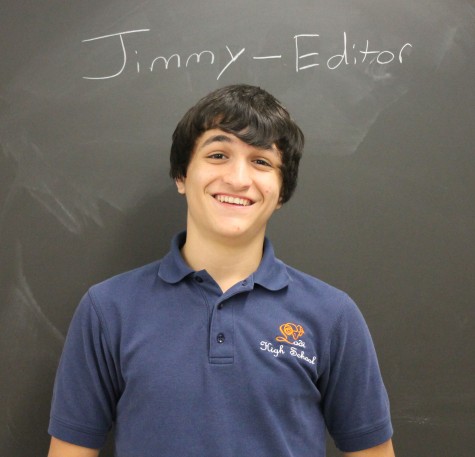 Jimmy Scalia, Editor
Q: What three words best describe you?

   A: Enthusiastic, obnoxious, and well-rounded.

Q: What do you like doing on your free time?

   A:...