Stuart Scott: A Guy That Was Cooler Than the Other Side of the Pillow
He didn't only give you the hottest top 10 play of the week, and he didn't just tell you the severity of your fantasy player's injury. Stuart Scott was more than a sportscaster and an analyst for ESPN. Scott was someone who battled through adversity his whole life and kept rolling with the punches from when he became one of the first African-American broadcasters on television, to his seven year battle with cancer.
Scott revolutionized the field of communications, mainly sports. He brought a very comfortable sense to his job everyday. Ever sit at home watching a game and be completely outraged by a bad play call or a terrible effort? Well, Scott would feel the same way, and he would say how he felt. He'd act as the fan sitting next to you at a game, but he was there for everyone to watch. He made it look easy and he came up with catchy phrases such as: "Cooler than the other side of the pillow" and "Just call him butter, because he's on a roll!" This made ESPN appeal to a younger audience while an older audience was already established. Scott was the real deal and made his job fun while letting the viewers in on it too.
In 2007, Scott was diagnosed with cancer after an appendix removal. During his treatment, Scott continued working hard at his job and trying to beat cancer. When he worked, he didn't want to talk about his illness, just sports. The Jimmy V award was awarded to him in 2014 for his outstanding work along with fighting cancer. Scott said, " When you die, it does not mean that you lose to cancer. You beat cancer by how you live, why you live, and in the manner in which you live." He passed away Jan. 4, 2015. Stuart Scott stood true to this statement as he never wanted to know what stage of cancer he was in. His career is a testament to his legacy of resilience and hard work, which have been an inspiration for all who knew him personally and for his fans.
About the Contributor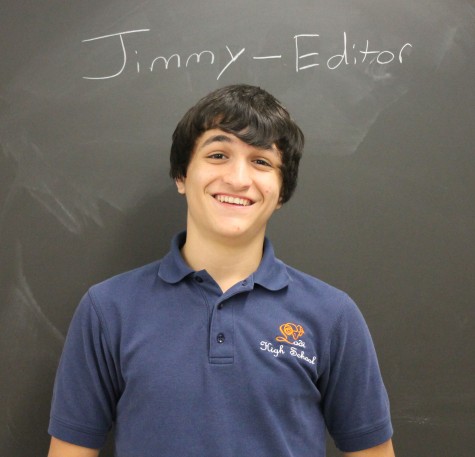 Jimmy Scalia, Editor
Q: What three words best describe you?

   A: Enthusiastic, obnoxious, and well-rounded.

Q: What do you like doing on your free time?

   A:...