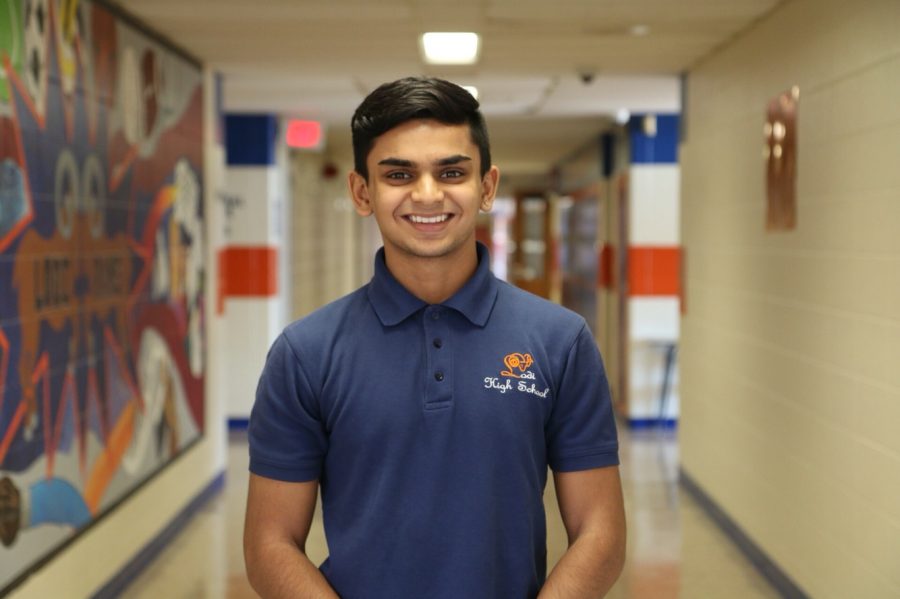 Q: Do you have any ideas on where you want to go to college?
A: Urmil wants to apply to film schools such as, NYU, UCLA, and USC. As a backup plan, he wants to go to a business school.
Q: What are you going to miss most about LHS?  
A: Urmil is going to miss the teachers and staff, but he will also miss being in the Rampage and having the ability to run around the school free with a camera.
Q: Where do you see yourself in 10 years?  
A: Urmil sees himself having a stable job while pursuing film and photography. He also has high hopes to be out of his parent's house.
Q: When did you become interested in photography?
A: Urmil was basically grown into it because his parents owned a photography business. At a young age, he would go with his parents to weddings and other events to take pictures.
*Fun Fact*- He was around seven or eight when he got his first camera.
Q: What is your favorite dessert?  
A: Urmil enjoys a nice cannoli or a piece of cannoli cake.
Interviewed by Rachel Leto
Urmil Dalal, Contributor
Jun 23, 2017
May 20, 2017
May 19, 2017
Apr 13, 2017

60 Q's: Talking with Tarleton

(Media)

Mar 09, 2017

A Royal Invitation to Cinderella

(Story/Media)

Feb 14, 2017

Taking It to the Net: Lodi Basketball

(Media)

Jan 19, 2017
Dec 23, 2016

Singin' with Snoop Dogg

(Story/Media)

Dec 08, 2016

Mannequin Challenge

(Story)

Nov 23, 2016

Marching With the Rams

(Media)

Nov 10, 2016

Wrapping Up the Rackets

(Media)

Oct 30, 2016

Scary Story Time with Tarleton

(Media)

Oct 30, 2016
Oct 13, 2016
Oct 13, 2016

Get Your Kicks On

(Media)

Oct 13, 2016

60 Q's:the Long Interview

(Media)

Sep 29, 2016

Staff Throw it Back to Their Senior Year

(Media)

Sep 29, 2016
Sep 29, 2016

60 Q's: Not an Ordinary Interview

(Media)

Sep 29, 2016

The Get Down with Guidance!

(Media)

Sep 18, 2016

How to: Surviving Freshman Year

(Media)

Jun 22, 2016

I Guess It's Time To Say Goodbye…

(Story)

Jun 20, 2016

Where It All Ended: Lodi High School

(Media)

Jun 05, 2016

Where It All Began: TJMS

(Media)

Jun 05, 2016

Canni's Corner: Prom

(Media)

May 19, 2016

Let's Tie Things Up!

(Media)

May 19, 2016

Teachers Go Back to Prom

(Media)

May 08, 2016

Painting a Legacy

(Story)

Apr 21, 2016

Back to Where it Began: Roosevelt School

(Media)

Apr 02, 2016

Duralife Unlocker Challenge: VOTING REQUIRED

(Media)

Mar 31, 2016

Seniors: 8 down, 2 to go

(Story/Media)

Mar 17, 2016

Do You Believe in Luck?

(Media)

Mar 17, 2016

Opening Night of 9 to 5 The Musical

(Story/Media)

Mar 03, 2016

Where it All Started: Columbus School

(Media)

Mar 03, 2016

Here at Lodi High, We All Love Mrs. Y

(Media)

Mar 03, 2016

An Exclusive Look Behind the Scenes of "9 to 5 The Musical"

(Story/Media)

Feb 11, 2016
Jan 31, 2016

One in 292.2 Million

(Media)

Jan 14, 2016

Teacher's Hidden Talents: Ms. Garlasco

(Media)

Jan 14, 2016

Where it All Began: Wilson School

(Media)

Jan 14, 2016
Dec 22, 2015

Story Time with Tarleton

(Media)

Dec 22, 2015

Stars on the Rise… or Fall: An Interview with the RAMones

(Media)

Dec 22, 2015

Canni's Corner: Ft. Duncan for the Holidays

(Media)

Dec 20, 2015

"All I Want for Christmas is You" LHS Lip Dub

(Story)

Dec 10, 2015

The Sibling Games

(Media)

Dec 10, 2015

Teacher's Hidden Talents: Mr. Galvin

(Story/Media)

Dec 10, 2015

Back to Where it Began: Washington School

(Media)

Nov 24, 2015

Teacher's Hidden Talent's: Ms. Getrajdman

(Story/Media)

Nov 24, 2015

Canni's Corner: Duncan Edition

(Media)

Nov 24, 2015

What Are You Thankful For?

(Media)

Nov 15, 2015

Teacher's Hidden Talents: Mr. Schram

(Story/Media)

Nov 15, 2015

Look Your Best for Homecoming!

(Story/Media)

Oct 30, 2015

Canni's Corner: Powderpuff

(Story)

Oct 30, 2015

DIY: Halloween Costume

(Story)

Oct 30, 2015

Teacher's Hidden Talents: Mr. Tarleton

(Story/Media)

Oct 29, 2015

Clinton Place: New Jersey's #1 Halloween Street

(Story)

Oct 15, 2015

Teacher's Hidden Talents: Mr. Morali

(Story/Media)

Oct 15, 2015
Oct 15, 2015

Back to Where it Began: Hilltop School

(Story)

Oct 01, 2015
Oct 01, 2015

Teachers' Hidden Talents

(Story/Media)

Sep 09, 2015

Message to My Freshman Self

(Story/Media)