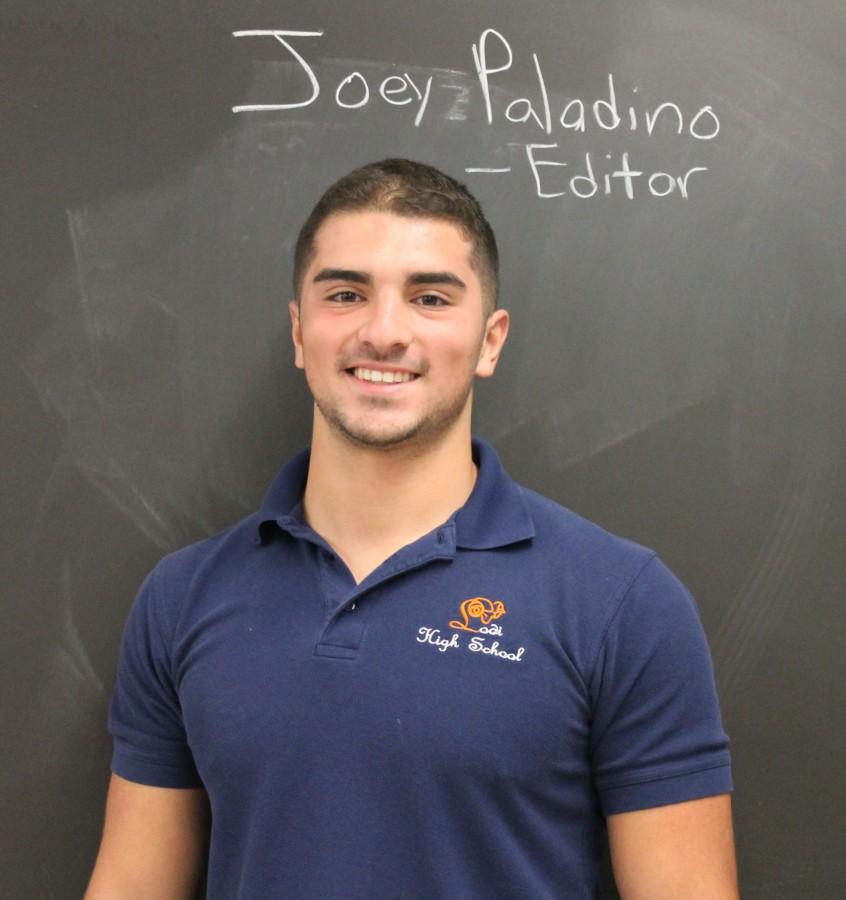 Q: What college do you plan on attending?
A:
Rutgers University in New Brunswick
Q: Are you a part of any after school activities or clubs?
A:
Interact Club, National Honors Society, Pep Club, and yearbook.
Q: Why did you decide to take this class?
A:
My favorite teacher was teaching it and I believe I can write very well.
Q: Do you play any sports? If so, what positions?
A:
I play football and I play defensive end and tight end.
Q: Fun fact?
A:
I still enjoy playing pokemon at 17 years old
Joey Paladino, Editor
Jun 17, 2015

CLASS of 2015 Making H15TORY… FOR THE LAST TIME

(Story)

May 10, 2015

Teachers Impersonating Students: Volume II

(Story)

Apr 01, 2015

Who Did it Better? Teachers Impersonating Students

(Story)

Mar 31, 2015

The Easter Bunny Hops into LHS

(Story)

Mar 19, 2015

Teachers With Interesting Pasts: Sports

(Story)

Mar 05, 2015

Counting Down the Days: Class of 2015 Graduation

(Story)

Feb 09, 2015

Guidance Counselor Appreciation

(Story)

Feb 09, 2015

A Special Guest Drops by LHS

(Story)

Jan 15, 2015

October Student of the Month!

(Story)

Dec 18, 2014

Santa Claus Is Coming To Town!

(Story)

Dec 18, 2014

Lodi High School's New Year's Resolutions

(Story)

Dec 10, 2014

Rising in the Ranks: Mr. Dowson

(Story)

Nov 25, 2014

Faculty Alumni Flashback: Mr. Sudol and Mr. Maggio

(Story)

Nov 13, 2014

Lodi High School's Newest Edition: The Listening Room

(Media)

Nov 13, 2014
Nov 13, 2014

Mame Hits the Stage

(Story)

Oct 31, 2014

Tarleton and Noordeloos Back in Action

(Story)

Oct 31, 2014

Extraordinary Characters Visit Lodi High School

(Story)

Oct 27, 2014

September Student of the Month: Subraiz Ahmed

(Story)

Oct 12, 2014

Social Studies Student of The Month: Subraiz Ahmed

(Story)

Oct 09, 2014

Best High School Running Back in the State – Vote Jesse!

(Story)

Oct 08, 2014

Faculty Alumni Flashback: Mr. Cannizzaro

(Story)

Sep 25, 2014
Sep 25, 2014

Devan Solanki: The Number One Ranked Senior

(Story)

Sep 24, 2014
Sep 24, 2014
Sep 24, 2014
Sep 24, 2014

Priyanka Mehta: The Number One Ranked Junior

(Story)

Sep 24, 2014