Mr. Schram
To be or not to be? Mr. Schram is definitely is one of the new teachers to be talked about. Coming from the rival town across the street, Mr. Schram moved from Garfield to Waldwick when he was a child. He attended Waldwick High School where he was a varsity basketball captain and cross country runner. His passion in music also showed in high school; Mr. Schram worked as a disk jockey for a radio station.
After high school Mr. Schram attended Seton Hall and worked at an after school program in Orange county to gain teaching experience. Now, Mr. Schram is a freshman English teacher in our humble school. When asked if he'd rather teach English Honors rather than regular English, he answered "I like teaching the regular classes. The students in the regular classes will often surprise you and exceed your expectations."
Mr. Schram's passion for teaching flares when his students show effort and enthusiasm in the classroom. Inspired by his 7th grade teacher to become one himself, Mr. Schram wants to teach in Lodi High School indefinitely; he states that he "loves the environment here." Mr. Schram wants to change lives in and out of the classroom; when asked if he may want to coach basketball he responded with a strong "definitely some day." Mr. Schram, the avid vinyl collector he is, left us with a quote from George Harrison of The Beatles: "When you see beyond yourself, then you may find piece of mind is waiting there."
About the Contributor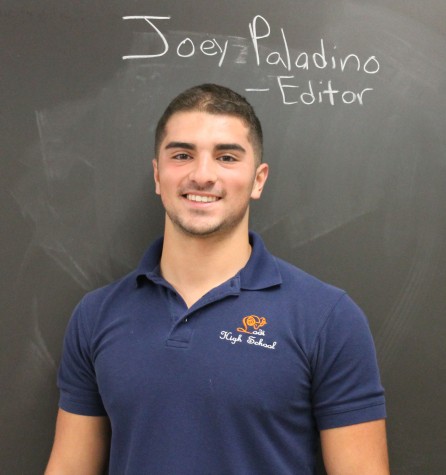 Joey Paladino, Editor
Q: What college do you plan on attending?

A: Rutgers University in New Brunswick

Q: Are you a part of any after school activities or clubs?

A:...