Ms. Blanco
Ms. Blanco, a new member of our special education staff who is teaching U.S. History 1 and 2, is just beginning her own history in our school. But now a little bit about her own personal history; Ms. Blanco attended Rosa Parks Performing High School in Paterson where she focused on her vocals. Ms. Blanco has been interested in both singing and and history since she was a teen. Her vast interest in history comes from a long line of family members in the military. After her days in high school came to a close, Ms. Blanco attended William Paterson University with dreams of becoming a history teacher.
When asked how she is enjoying her Lodi High School experience, Ms. Blanco answered, "I love it in Lodi. I feel comfortable and supported by the staff." Along with her teachings and wisdom, Ms. Blanco wants to use her vocal expertise to aid Lodi High School's singing youth; she mentioned perhaps aiding the choir some day soon. Before Morgan and I wrapped up the interview, we asked Ms. Blanco to leave us with a message that would go out to the students. She left us with a quote by Abraham Lincoln that reads, "Whatever you are, be a good one." Ms. Blanco wishes every student the very best, and advises us all to put our best foot forward!
About the Contributor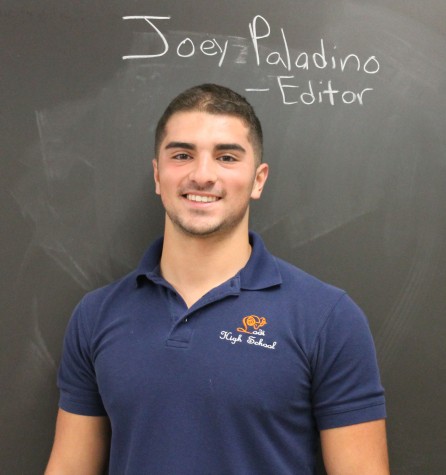 Joey Paladino, Editor
Q: What college do you plan on attending?

A: Rutgers University in New Brunswick

Q: Are you a part of any after school activities or clubs?

A:...