Ms. Martin
Get your calculators warmed up Lodi High School! Ms. Martin, our school's newest Special Education 10th and 11th grade Math teacher, wants to calculate high numbers for her students on genesis this year. Hailing from Madison, New Jersey, Ms. Martin attended Madison High School where she cheered and recorded the stats for baseball and wrestling. Ms. Martin stated that she may one day want to become a cheerleading coach in Lodi High School. After high school, Ms. Martin attended Rowan University already knowing she wanted to become a Math teacher. When asked if teaching at Lodi High School seems like the long term, Ms. Martin answered, "I'm just taking it day by day, but teaching in high school is definitely what I want to do." When asked her favorite quote, Ms. Martin answered with one of my personal favorites. "Life is like a mirror, you get the best results when you smile at it." Now everyone, make sure you get Ms. Martin's e-mail address before Winter break so we can e-mail her a warm "happy-birthday!" Ms. Martin's birthday is on Christmas!
About the Contributor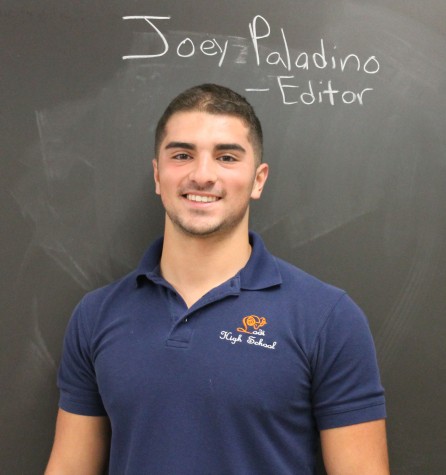 Joey Paladino, Editor
Q: What college do you plan on attending?

A: Rutgers University in New Brunswick

Q: Are you a part of any after school activities or clubs?

A:...