Priyanka Mehta: The Number One Ranked Junior
On September 24, I surprised Priyanka Mehta with the news that she was now the top ranked student in the junior class. Very happy to hear the news, we proceeded into a Q and A about her accomplishments as a student. Priyanka noted her dedication and natural intelligence as the two main qualities that allow her to excel in the classroom. This year, Priyanka has what any student would call a difficult schedule. She is taking AP Chemistry, U.S. History II Honors, Pre-Calculus Honors, and English III Honors. While this schedule is scary to many, including myself, Priyanka is determined to face the challenge and welcomes it. Priyanka finds no difficulty in balancing her school work with her everyday life. "I have really good time management. I know what I need to do each day, and I know how to spend my hours," said the top ranked junior. When asked about what rewards the students with higher GPA's, including herself, should receive, Priyanka had an interesting response. She stated that she is all about self-motivation and determination, so she could not come up with an answer to that question. Then, when asked what she thinks could be done to improve grades in the school overall, Priyanka answered, "Its up to the individual students to motivate themselves." Priyanka Mehta certainly believes in hard work and dedication. On her way to becoming an Astronomer, Priyanka is going to face many hard challenges in school, but she is certainly up to the task.
About the Contributor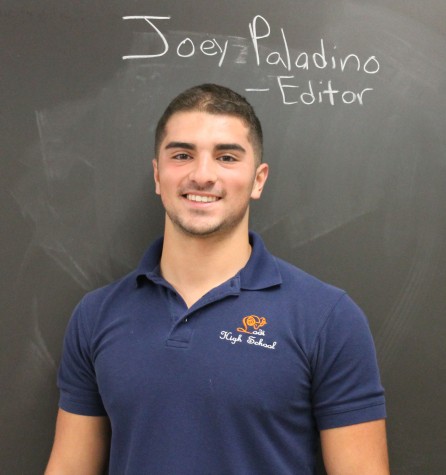 Joey Paladino, Editor
Q: What college do you plan on attending?

A: Rutgers University in New Brunswick

Q: Are you a part of any after school activities or clubs?

A:...