Ms. Passano
Everyone give a warm "welcome back" to one of our new guidance counselors, Mrs. Passano! While Mrs. Passano is a new guidance counselor to our school, she is not new to Lodi High School; she taught English here two years ago. But Morgan and I asked Mrs. Passano to tell us her story starting way before she became a teacher, and here's what we got: She was born and raised in Lodi, but did not attend Lodi High School. Mrs. Passano graduated from Academy of the Holy Angels in Demarest, New Jersey. In high school, Mrs. Passano cheered, played softball and was Vice President of her Student Government senior year. In the next chapter of her life, Mrs. Passano moved onto college and attended Fairfield University, where she cheered for another four years. After college, she got her first teaching job at Lodi High School teaching English; she taught here for 12 years! Interestingly enough, Mrs. Passano's first year teaching here was Ms. Orosz and Ms. Gorski's senior year at LHS. Mrs. Passano also had Ms. Sciarra, and Ms. Policastro as students, but today calls them her colleagues and good friends. Then, Mrs. Passano left the teaching scene for a year to intern as a guidance counselor at Wallington High School. And that brings us to this year: Mrs. Passano's first year as an official guidance counselor in Lodi High School. Finally, to end off the interview, Ms. Passano left us with her favorite quote by the Dave Matthew's Band; "If you hold on tight to what you think is your thing, you might find you're missing out on all the rest." In other words, venture out and be open to new things!
About the Contributor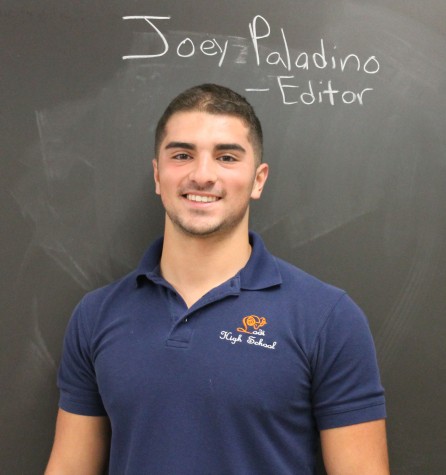 Joey Paladino, Editor
Q: What college do you plan on attending?

A: Rutgers University in New Brunswick

Q: Are you a part of any after school activities or clubs?

A:...