Ms. O'Brien
Ms. O'Brien may be a new teacher to Lodi High School, but she is no rookie. Before teaching, Ms. O'Brien was a computer programmer. She then realized that she loved teaching the new programmers the ropes of the job. From this, Ms. O'Brien branched into teaching. She taught for a few years before Lodi High School, one school being East Side High School in Paterson. But now, in Lodi High School, Ms. O'Brien teaches all grades, including a required course sophomore class "Financial Literacy." As a teen, Ms. O'Brien attended Fairlawn High School. After High School Ms. O'Brien attended a few colleges. The first was the University of Wisconsin. Next, she went to William Paterson for computer science. Finally, Ms. O'Brien attended Ramapo College to get her MBA.
Ms. O'Brien is an interesting edition to the LHS family; her hobbies nowadays include yoga, swimming, hiking, and walking her dog. Another interesting fact about Ms. O'Brien is her first ever job. She delivered newspapers when she was just 12 years old. To end off our fun-filled interview, Ms. O'Brien left us with a message to the students that she hopes we all keep in the back of our minds; hard work will always pay off in the end.
About the Contributor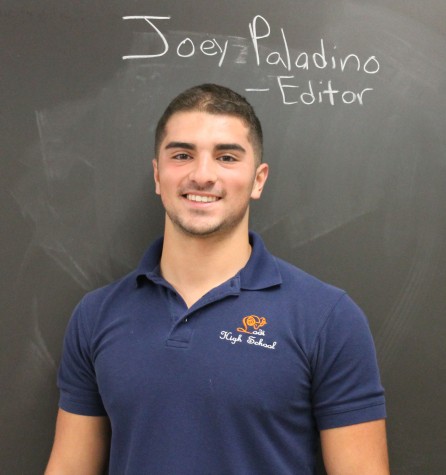 Joey Paladino, Editor
Q: What college do you plan on attending?

A: Rutgers University in New Brunswick

Q: Are you a part of any after school activities or clubs?

A:...