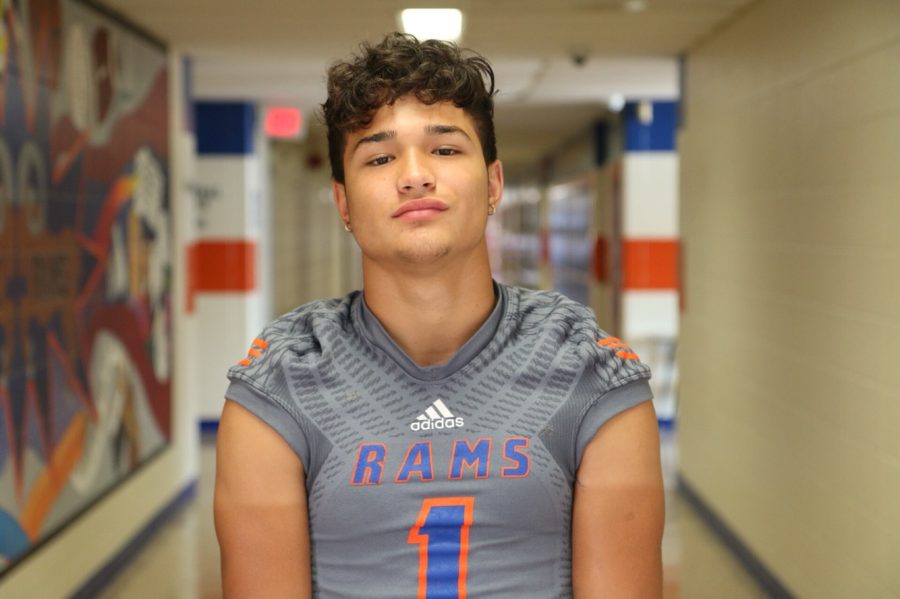 Q: What are you most excited for this school year?
A: C
hris is most excited for wrestling during this school year. He is also excited to leave early. Chris wants to feel "superior" to the underclassmen and wants them to look up to him. He is also anxious to know what college he will be attending.
Q: What do you plan on doing after high school?
A: 
Chris plans on going to college. He will major in Journalism or Media/Communications. If he does not receive a scholarship, he will move to Canada and have an education for free.                                                          
Q: What fictional character would you consider yourself to be most like and why?
A: If Chris were to be a fictional character, he would be Mark Sloan from Grey's Anatomy because he saves lives and gets a lot of girls.
Q: What accomplishment are you most proud of?
A: 
Chris's greatest accomplishment would be advancing to the Atlantic City Wrestling Tournament as a junior.
Q: If you could travel to any destination, where would it be?
A: 
Chris would travel to California because of the warm weather and the life style. He feels that there will never be a dull day in California. 
Q: 
If you had to eat one food for the rest of your life what would it be?
A: 
Chris would eat Chipotle for the rest of his life and would make sure that the water cup was completely filled with soda.
Interviewed by Adrianna Bakreski
Chris Caban, Author
Jun 20, 2017

Saying Goodbye to Senior Athletes

(Story)

May 19, 2017

Pun Fun with Lodi Athletes

(Story)

May 05, 2017

Rookie of the Year!

(Story)

May 05, 2017

Survival of the Fittest

(Story)

Apr 13, 2017

Batter Up: Lodi's Opening Day!

(Story)

Apr 13, 2017

Lodi's Race To The Top!

(Story)

Mar 30, 2017

Alumni In Recovery

(Story)

Feb 19, 2017

Welcome Home, Coach: Billy Masopust Court Dedication

(Story)

Feb 14, 2017

Butterflies in My Stomach, Love on My Mind: Crush Confessions

(Story)

Feb 10, 2017

Wrestling: Senior Night

(Story)

Feb 03, 2017

Wrestling: Lodi vs. Hasbrouck Heights

(Story)

Jan 19, 2017

Rivalry Week: Wrestling

(Story)

Jan 13, 2017

Wrestling: Lodi vs Leonia

(Story)

Jan 06, 2017

Boys Basketball: Lodi vs Hawthorne

(Story)

Dec 23, 2016

A Winter Wrestling Tournament!

(Story)

Dec 23, 2016

Lodi Basketball Stars Return to the Court!

(Story)

Dec 15, 2016

Fourth Day of Christmas

(Story)

Dec 08, 2016

Lady Rams Lace Up for the New Season!

(Story)

Nov 10, 2016

Chicago's Curse is Broken!

(Story)

Oct 30, 2016

Senior Girls Dominate the Football Field!

(Story)

Oct 30, 2016

Celebrating Our Senior Stars!

(Story)

Oct 12, 2016

A Legacy Lives On

(Story)

Oct 06, 2016

Running Back in the Running

(Story)

Sep 18, 2016

Kickin' Off the Season with Kayla

(Story)

Sep 18, 2016

Lady Rams Get Their Rackets Ready

(Story)