Rookie of the Year!
Poised. Mature. Polished. These words aren't typically used when talking about a freshman in high school sports. However, this is exactly how teammates describe, freshman pitcher, Vinny Vartolone. "He has surprised us all. Coming into the season we knew Vinny had talent but he has definitely exceeded expectations," shared Captain Richard Fontanillas. Teammates Adam Ortiz and Mike Scrafano, two other pitchers on staff had nothing but high praise for Vartolone, as well. "Vinny has been exceptional. He has come into big games and played great baseball. He knows how to hit his spots and he has been a great addition to the team," Ortiz said.
Having the support of your senior teammates is always a great indicator of success. Vartolone is a team first player; his biggest concern is winning rather than individual success. Vartolone believes as the competition gets better his game is elevated, which has been evident so far in his young career. Vartolone touts an ERA below two which is outstanding for any player, especially a freshman.
Head coach Kurt Geisler and Coach Maggio have been blown away by Vartolone, who credits them for his success thanking them for pushing him to be his best each and every day. "It has been a great experience so far playing on the varsity team because there is better competition, which makes me a better baseball player. It has also been fun to play with teammates that I can learn from," Vartolone added. It is clear that the Lodi baseball team is headed in the right direction with Vinny Vartolone at the mound.
As far as goals go, Vartolone is as selfless as they come. Winning is the main objective for the next four years. Vartolone stated, "One of my baseball career goals is to have a winning team record and make it far into county and states throughout my high school years." We are all very excited to see what the future holds for Vartolone and the Lodi baseball team. Please continue to show support for our Rams!
About the Contributor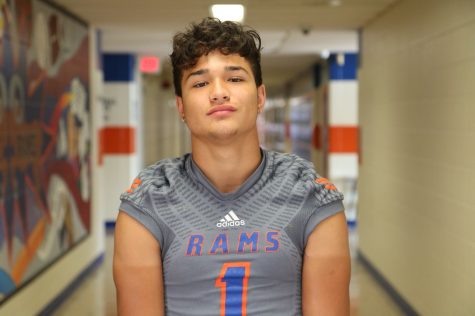 Chris Caban, Author
Q: What are you most excited for this school year? A: Chris is most excited for wrestling during this school year. He is also excited to leave early. Chris...