Batter Up: Lodi's Opening Day!
On April 5, it was opening day for the Rams and Lodi baseball was back into full swing. Their opening day match-up against Pompton Lakes was described, by Captain Richard Fontanillis, as "A great team to see where we rank amongst the best in our division." Fontanillas continued by stating, "Pompton is always tough, and a win here would be a huge confidence boost to start the season." Senior, Adam Ortiz started for the first time in over two years for the Rams.
Early on in the game, he didn't miss a beat, allowing one run earned and only four hits through four innings. The game was all tied up after four innings with a score of 1-1. As the game progressed, and Ortiz's pitch count started to rise, the crowd began to see fatigue in the young pitchers arm. Bases were loaded with only one out, and Lodi seemed to be on the ropes. Ortiz struck out the next batter. One strike, one ball, one ball, then Bam! The Pompton Lakes batter sent a line drive shot up the middle of the field and two runs were scored. Thankfully, this is all the damage that happened. Pompton led 3-1 entering the bottom of the inning.
Desperately needing a spark offensively, the Rams looked to none other than Elian Guzman, who had 40 hits and four home runs last year as a sophomore. It only takes one pitch. Guzman blasted the Pompton pitcher for a triple! Soon after he scored. Pompton led 3-2 after the fifth inning. The rest of the game was pitched by Michael Cangialosi, who came out and did his job, not allowing any runs scored on him. However, the Lodi offense didn't pick up their side of the deal as they could not add to the scoreboard.
It was a great old fashioned baseball game, and a well deserved win for Pompton Lakes. This loss is nothing for Lodi to hang their heads over. If Lodi finds a way to offensively improve, behind solid pitching, they could be a force to be reckoned with. The Rams have played in four games as of now and have a current record of 2-2 (wins over Manchester and Hawthorne and losses to Pompton and Paramus Catholic). Good luck boys and continue to give it all you've got out there on the diamond!
About the Contributor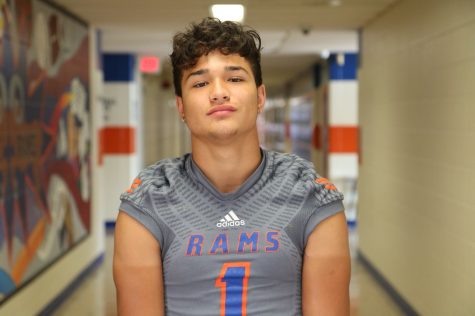 Chris Caban, Author
Q: What are you most excited for this school year? A: Chris is most excited for wrestling during this school year. He is also excited to leave early. Chris...