Celebrating Our Senior Stars!
At the end of every sports season comes a bittersweet truth; our seniors won't be in orange and blue ever again. As our athletes put on their Lodi uniforms for the last time in front of a home crowd, they were celebrated by their parents, coaches, and teammates. It's no secret that every single senior will be missed and that is what makes senior week so emotional and special. Our first senior night took place on Oct. 17 and showcased the sole senior girl tennis player; captain Erin Gamadia. Erin has brought leadership and experience to a team full of youth and potential all year. Erin finished her Lodi tennis career with a 6-0, 0-6, 7-6 victory over Mary Help.
The next seniors to be celebrated were our girl volleyball players. The seniors consist of captain Lila Reginald, captain Nicole Salvatore,  captain Nicolette Maggiore, captain Albina Osmani, Chantal Carpio, and Janiaya Clay –a powerful, dynamic group. The girls came out victorious in their final game on Billy Masopust court versus Mary Help. Reflecting back over the season, Albina feels she'll miss being captain and contributing to the team the most.
Along with the girls volleyball team, the girls soccer team is saying farewell to an abundance of senior players. The seniors on the team consisted of Kayla Oakley, Amanda Najbar, Leyla Durmus, Kim Coronel, Kathy Villanueva, Hasmin Llamoca, Dahana Rene, and Breanna Douglas. The girls dedicated their summer to double sessions and worked hard to be an example to the younger players. Not only did the girls have chemistry on the field, but they also grew a close bond off the field. When asked what she will miss the most about her senior year, Kayla Oakley said, "One thing I'll miss most about this season is the team chemistry. The girls can make me happy even on my worst days and I'll miss each and every one of them more than they know." The girls season ended with their senior home game against Garfield that ended in a 3-2 win. Although the senior girls are leaving, their positive effect on the team will contribute to the younger players having a successful season next year.
Senior week continued as our amazing Lodi Ram cheerleaders were showcased next. Friends and family joined the Lodi Ram cheerleaders as they walked down for a ceremony on the field. The seniors consists of captain Rachel Leto, captain Gia Manno, captain Brianna Giordano, Akyra Rice, Asia Coar, Genesis Caro, Aliyah George, Kailyn Anderson, and Kaitlin Reagan. This won't be the last we see of the lady rams though, their competition cheerleading season begins in the winter!
Lastly, on Oct. 29 the Lodi Rams' senior football players took the field for one last time. Nine seniors, Dayshawn Cunningham, Brandon Coba, Matt Santana, Alex Manjikian, Andrew Manjikian, Guilherme Richil, Albi Klomollari, captain Tyler Moravick, and captain Chris Caban, were escorted by family and friends for one last game at Lodi High School. Their opponents, Lyndhudrst, may have come out victorious 32-14 but playing together one last time made everyone feel like winners.
Congratulations to all the seniors who won't be here next year. We are all proud of you!
About the Contributor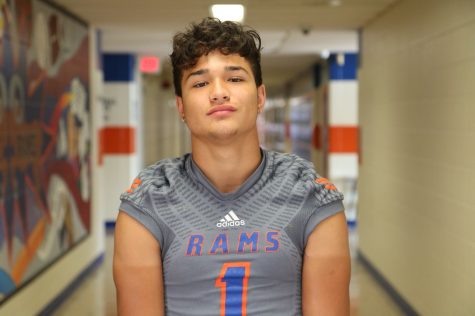 Chris Caban, Author
Q: What are you most excited for this school year? A: Chris is most excited for wrestling during this school year. He is also excited to leave early. Chris...