Boys Basketball: Lodi vs Hawthorne
On Jan. 3, 2017, the Lodi Rams boys basketball team opened up the new year with a home game against the Hawthorne Bears. The Rams entered the game with a 1-2 record and the Bears a 4-1 record. The tip was won by Hawthorne and the action was underway. Defense dominated the beginning of the game; both teams were feeling each other out and looking for their tempo. Randy Mendez began to take control for the Rams with a few fancy layups. Back and forth action was led by Dallas Hoffman for the Bears and Mendez and Pepin for Lodi. Lodi trailed 23-18 after two quarters.
Following the short half time intermission, both teams were ready to play ball again. The Rams made some good half time adjustments and went on a run early in the third quarter. Pepin started to catch fire, posting eight points and five rebounds in the third quarter alone. His efforts, along with Mendez and Rivas had the Rams in prime position. They trailed by just one point entering the fourth and final quarter.
Both teams started the fourth very aggressively. Hawthorne leaned on their star player, Hoffman, to keep them on top. With two minutes to go, Hoffman put the game away when he finished a highly contested layup for the and one. Chances grew slimmer and slimmer as the Rams saw an eight point deficit with a minute and a half to go. However, Lodi still went out shooting, leaving it all on the court. The final score was Hawthorne 45, Lodi 38. After the game, Lodi Rams senior, Mike Scrafano said, "We knew coming into the game that they had many talented players. We had a good game plan in order to contain them and open up our offense. For the most part, we executed well on the defensive end. Holding a good offensive team to 45 points was a positive. Obviously this wasn't the outcome we were hoping for, but we have many good things to work off of in practice." The Rams are back in action, on the road, in Rutherford on Thursday, Jan 5!
About the Contributor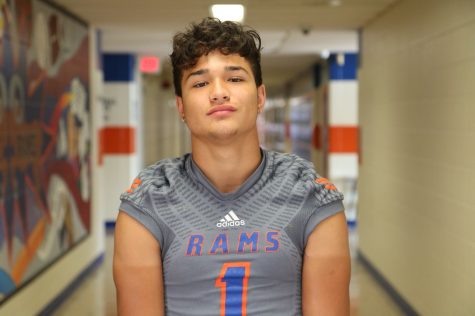 Chris Caban, Author
Q: What are you most excited for this school year? A: Chris is most excited for wrestling during this school year. He is also excited to leave early. Chris...