Wrestling: Lodi vs Leonia
On Friday, Jan. 6, the Lodi Rams' wrestling team was in action once again against the Leonia Lions. In anticipation to the night's events, Coach Maggio referred to the match as a "nail biter," stating that Lodi and Leonia match up well against each other. The match bouts started at the 138 pound weight class. John Zecca got Lodi on the board first with an 11-2 major decision victory. The next four bouts, all ended in first period pins making the score 16-12  in favor of Lodi. However, the tides started to turn for Leonia.
Despite an exhilarating victory by, sophomore, Sean Tocci, Leonia found themselves up 34-28 with the need for one more win to seal the deal. With Lodi's back against the wall, they looked toward their lightweights to pull through for them. The last three wrestlers were Ivan Ayon, Chris Caban, and Daniel Adams. Ivan Ayon found himself in a premature battle due to early points being traded for both competitors. The match found its way into the third period and the tension grew even stronger. Suddenly, Ivan threw his opponent to his back to pin him and tie the match at 34.
The next match was for the lead, and Lodi sent out their team captain, Chris Caban. Chris brought the crowd to their feet with a pin in a minute and seven seconds! This win sealed the match for Lodi. However, the victories kept coming with Daniel Adams' win in the last bout. It was indeed a nail biter as Coach Maggio predicted! Both teams competed to the best of their abilities but at the end of the night, our Lodi Rams were victorious! Please come out and show your support at the next match, home, Friday Jan. 13 at 7:00!
About the Contributor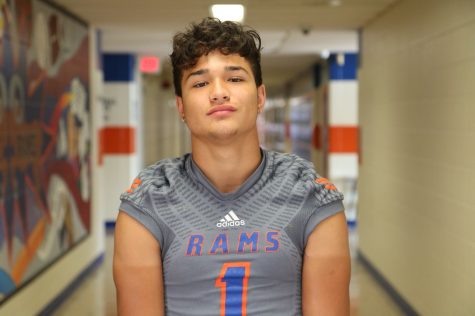 Chris Caban, Author
Q: What are you most excited for this school year? A: Chris is most excited for wrestling during this school year. He is also excited to leave early. Chris...