Rivalry Week: Wrestling
For athletes that compete in orange and blue there is no week more anticipated than Garfield week! The level of competition is brought up a couple notches and the stakes are higher than other matches throughout the season. Coach Maggio, a man who has been through countless rival weeks shared his thoughts on preparation before facing the Boilermakers. "I've been an athlete against Garfield and I've been a coach and I can tell you first hand these are the days that stay with you throughout your whole life. You will see these kids for the rest of your lives. That being said, not much is needed to say to pump up our team for this match. We prepare like we do for any other team but I definitely ask for a little extra heart when wrestling against purple and gold." Coach Maggio also admitted that Garfield could be a challenge for our very young team as they have many established, four-year varsity starters on their squad.
Nonetheless, our Rams went out and left it all on the mat. The match started at the 113 pound weight class. The first two bouts ended in second period pins and Garfield took a 12-0 lead early. At 126 pounds, Chris Caban won by major decision, 16-2, to get Lodi on the board. One of the most anticipated match ups was at 138 pounds where Lodi's John Zecca looked to avenge a loss against Garfield's Luis Gomez. The two met in the annual Garfield Holiday Tournament, and Gomez won that closely contested match 3-0. As the whistle blew, both men tried to immediately get into their offense. Late in the first period, Zecca secured a low single and finished his takedown to take a 2-0 lead, but Gomez quickly escaped. The back and forth action was so tight and competitive, six minutes was not enough and the two rivals found themselves in overtime. In wrestling overtime, the wrestler to score the first take down will be victorious. Zecca attacked the legs but his opponent was able to hit a swift reversal to score two points and the victory.
The Rams' second and last victory of the night came at the 152 pound weight class when, senior, Ryan Clancy pinned his opponent. Throughout the night, the young Lodi Rams gave their all but were bested by the more experienced Boilermakers on most occasions. The final score of the match was 68-10 but the scoreboard doesn't capture the fight and heart of the Rams that night. Lodi will be in action again Saturday, Jan. 21, at Riverdell as Caban looks to complete a huge high school accomplishment and win his 100th career varsity win! Please come out and support!
About the Contributor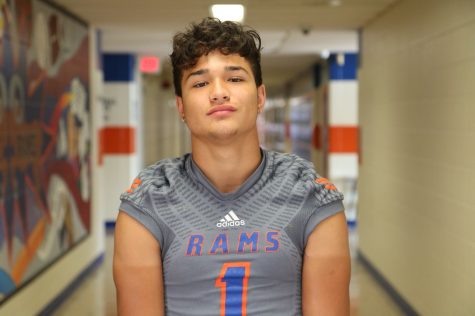 Chris Caban, Author
Q: What are you most excited for this school year? A: Chris is most excited for wrestling during this school year. He is also excited to leave early. Chris...