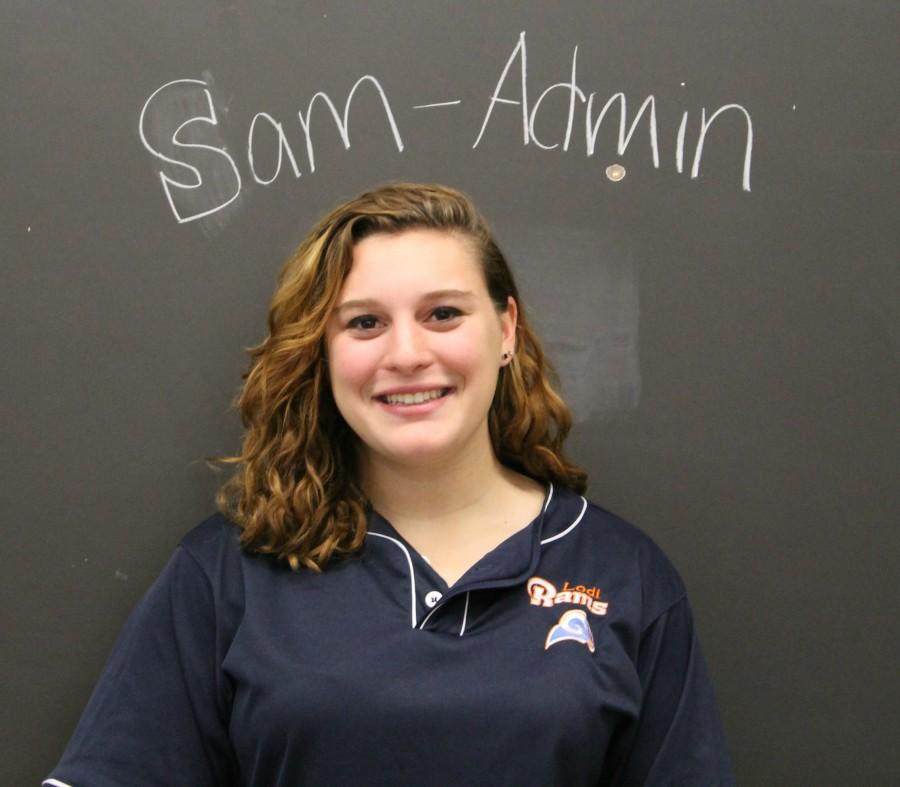 Q:  What role do you have in Digital Journalism?
A: I'm an administrator.
Q:  What do you enjoy doing on your spare time?
A:  I like to read and write.
Q:  What is a fun fact about you?
A:  I used to have bright red hair.
Q:  Do you play any sports if so which one, if not which one is your favorite?
A:  I play softball, I'm a first baseman.
Q:  What is your favorite food?
A:
Any pasta. I love pasta.
Samantha Pontillo, Administrator
Jun 18, 2015

Senior Trip~ Pocono Valley 2015

(Story)

Jun 17, 2015

Scholarship Awards Night

(Story)

May 25, 2015
May 25, 2015
May 25, 2015

Lodi High School's Rocket Rebels!

(Story)

May 10, 2015

Top 10: 8, 7, & 6

(Story)

Apr 23, 2015

Donate Your Books Today!

(Story)

Apr 22, 2015

Top 10 Students: Issue 10 and 9

(Story)

Apr 03, 2015

Spirit Week/Ram Wars

(Story)

Mar 19, 2015

Spring Is In The Air

(Story)

Mar 18, 2015

Uncle Jerry Fundraiser

(Story)

Mar 05, 2015

Sadies: The Thought That Counts

(Story)

Mar 05, 2015

Mame: Exclusive Interview with Directors

(Story)

Feb 12, 2015

Consumer Bowl Champs

(Story)

Feb 12, 2015

FBLA State Competitive Events

(Story)

Feb 11, 2015

Super-Star-Seniors

(Story)

Feb 05, 2015
Jan 28, 2015

ATTENTION ALL SENIORS

(Story)

Jan 28, 2015
Jan 15, 2015

Goodbye to 2014 and Hello to 2015!

(Story)

Dec 22, 2014

The Truth Behind Santa Claus

(Story)

Dec 22, 2014

Holiday Traditions

(Story)

Dec 11, 2014

Checkmate! The Chess Club is Back

(Story)

Dec 10, 2014

Book Club! Book Club! Read All About It!

(Story)

Dec 10, 2014

Inter-who? Inter-what? Interact!

(Story)

Nov 25, 2014

LHS Staff: Black Friday Advice

(Story)

Nov 13, 2014

Let's Be Champions Today

(Story)

Oct 31, 2014

Flashback Friday! Guess Who: Lodi Rampage Staff! – Halloween Edition

(Story)

Oct 31, 2014

Flashback Friday! Guess Who: LHS Staff – Halloween Edition

(Story)

Oct 27, 2014

We Got Pep How 'Bout You?

(Story)

Oct 12, 2014

National Honor Society

(Story)

Sep 25, 2014

Student Government Elections

(Story)

Sep 25, 2014

Student Gov. Advisor: Mr. Galvin

(Story)

Sep 25, 2014

Junior Class Advisor: Ms. Garcia

(Story)

Sep 25, 2014

Senior Class Advisor: Mrs. Orosz

(Story)

Sep 25, 2014

Freshman Class Advisor: Ms. Policastro

(Story)