Scholarship Awards Night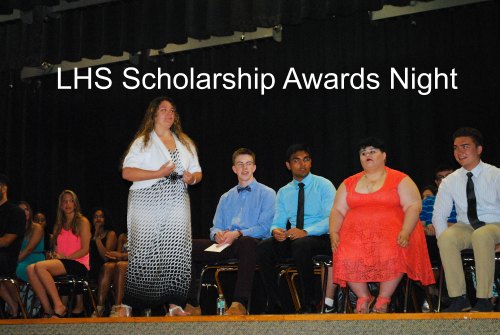 Hang on for a minute...we're trying to find some more stories you might like.
Every year, from local donors, thousands of dollars are given as scholarships to LHS students. These students must reach a criteria, write essays, hand in transcripts, and go above and beyond to receive the scholarships. This year, on June 11, 2015, a group of students came together to receive these different scholarships to help them pay for their next step in education. Many of these students will be attending universities or colleges and everyone can use help with payments. These LHS Seniors have worked so hard throughout the year and deserve the awards they've received. On behalf of Lodi High School, thank you to all of the people who donate. Each year you help students with their futures and that is beyond amazing.
Congratulations to all award recipients and good luck in your future endeavors!
The awards were given as followed:
Alfredo S. Masullo, M.D. Foundation– Karla Clavelo
AXA Advisors, LLC– Sal Petrillo and Anthony Varrechia
Bergen County Coaches Association– Joseph Rodriguez
Bergen County Womens Coaches Association– Arlene Espinal
Bergen County Directors of Guidance– Steven Cordova
Columbus School PTO- Victoria Celestine and Kevin Mahon
Daniel P. Conte Memorial- Karla Clavelo
Friends of the Lodi Memorial Library– Kassandra Luna
Hilltop School PTA– Dominick Salvatore and Christina LaFranca
Interact Club- Karla Clavelo and Lucia Baez
Jon Perconti Memorial Scholarship– Steven Cordova
LHS Drama Club– Dhilean Bustos, Amanda DellaPesca, Emily D'Onofrio, Raquel Dy, Kayla Fiscina, Jassi Godlewski, Catherine Lucas, Sebastian Rodriguez, Caroline Romero, and Allie Vasquez
LHS Girls Tennis Scholarship– Amanda DellaPesca, Caroline Romero, Kathy Lopez
LHS Bandwagon– Justin Navas, Lauren Shahine, Jimmy Scalia, Yoel Jimenez, Catherine Lucas, and Deepam Rana
LHS Choir Justin Aparte Vocal Music- Emily D'onofrio
LHS Rocket Club– Deepam Rana
LHS Student Government- Kathy Lopez, Morgan Guarino, and Kevin Mahon
Lodi CARES Volunteer Service Scholarship– Steven Cordova and Lucia Baez
Lodi CARES Mike Miller Memorial- Troy Ortiz and Victoria Celestine
Lodi Education Association– Amanda DellaPesca, Brianna Rohr, Kayla Fiscina, Caroline Romero, Brian Ray, Kevin Mahon, and Samantha Pontillo
Lodi Fire Department– Anthony Varrecchia
Lodi High School PTA– Samantha Pontillo, Kassandra Luna, and Amanda DellaPesca
Lodi PBA Local 26 Anthony D'Onofrio Scholarship– Emily D'onofrio
Lodi Women of the Moose Chapter #2156- Kayla Fiscina
Loyal Order of Moose 1971 William F. Masopust Sr. Memorial Scholarship- John Calabrese, Madison Cassetta, Karla Clavelo, Amanda DellaPesca, Kayla Fiscina, Morgan Guarino, Christina LaFranca, Kassandra Luna, Catherine Lucas, Jordyn Piparo, Samantha Pontillo, James Scalia, and Anthony Varrecchia
Magic Casement Yearbook Scholarship– Kayla Fiscina and Lucia Baez
Matthew A. DiChiara Memorial Scholarship- Amanda DellaPesca
Matthew Margiotta Memorial Art Scholarship– Neelkumar Patel
Mayor and Council Scholarship Fund– Devan Solanki, Kaetlynn Ayala, Amy Delgado, and Joseph Paladino
MSG Varsity– Ivonne Vides, Lucia Baez, and Jimmy Scalia
National Honor Society- Adam Petrillo, Kayla Fiscina, Gorav Kumar, and Lucia Baez
Nunno Family Memorial Scholarship– Victoria Celestine
Principal EMSSAA Travis Joseph Fragala Scholarship- Karla Clavelo and Amanda DellaPesca
PSP– Karla Clavelo and Andres Villanueva
Spencer Savings Bank– Caroline Romero
St. Anthony Young Adult Society– Christina LaFranca
St. Joseph Society of Lodi– Christina LaFranca
The Colombians– Kayla Fiscina
TJMS PTA– Amanda DellaPesca and Samantha Pontillo
Travis Joseph Fragala Memorial- Madison Cassetta
Vincent Dellapenta Memorial Scholarship- Dominick Salvatore
Vincent James Santangelo Sr. Memorial– John Calabrese
Washington School PTA- Brian Ray and Kayla Fiscina
Wilson School PTA- Amy Delgado