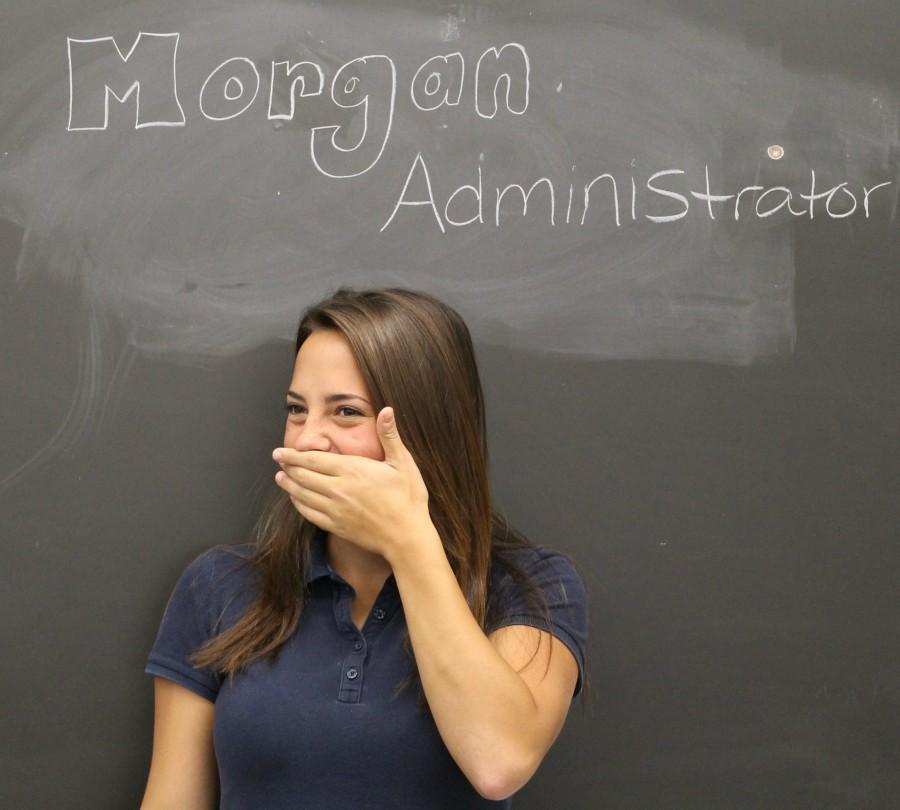 Q: What are your expectations for senior year?
A: I want to have a good time and to look back on it as a good memory.
Q: How do you think people describe you?
A: Quiet, but opinionated at times. Probably always involved and very dedicated.
Q: What's your favorite food?
A: Definitely pasta because it's a childhood memory; my grandma used to always make it every Sunday. Chicken is also my favorite food because it goes good with pasta.
Q: What's your favorite part about cheering?
A: My favorite part would be how close everyone is, kind of like a family. Pumping up school spirit is also another thing. I love competition season because it's a group effort.
Q: What are three things that people don't know about you?
A: One thing is that I don't like hot dogs because the ends look like thumbs to me. The second thing is I can touch my tongue to my nose. The third thing is I can never make a decision.
Morgan Guarino, Administrator
Jun 17, 2015

CLASS of 2015 Making H15TORY… FOR THE LAST TIME

(Story)

May 10, 2015

Teachers Impersonating Students: Volume II

(Story)

Apr 23, 2015

Who Did It Better? Students Impersonating Teachers

(Story)

Apr 01, 2015

Who Did it Better? Teachers Impersonating Students

(Story)

Mar 31, 2015

The Easter Bunny Hops into LHS

(Story)

Mar 19, 2015

Teachers With Interesting Pasts: Sports

(Story)

Mar 05, 2015

Counting Down the Days: Class of 2015 Graduation

(Story)

Mar 04, 2015

Perfect Way to End a Season

(Story)

Feb 12, 2015

Back To Back Win for LHS Cheerleaders

(Story)

Feb 09, 2015

Guidance Counselor Appreciation

(Story)

Feb 09, 2015

A Special Guest Drops by LHS

(Story)

Jan 15, 2015

Post Your Kindness

(Story)

Jan 15, 2015

October Student of the Month!

(Story)

Jan 15, 2015

LHS Cheerleaders Back in Action

(Story)

Dec 18, 2014

Santa Claus Is Coming To Town!

(Story)

Dec 18, 2014

Lodi High School's New Year's Resolutions

(Story)

Dec 10, 2014

Rising in the Ranks: Mr. Dowson

(Story)

Dec 09, 2014
Nov 25, 2014

Faculty Alumni Flashback: Mr. Sudol and Mr. Maggio

(Story)

Nov 13, 2014

Mame Hits the Stage

(Story)

Nov 13, 2014
Oct 31, 2014

Tarleton and Noordeloos Back in Action

(Story)

Oct 31, 2014

Extraordinary Characters Visit Lodi High School

(Story)

Oct 27, 2014

September Student of the Month: Subraiz Ahmed

(Story)

Oct 27, 2014
Oct 26, 2014

Former Homecoming Queen of Lodi High School: Mrs. Kuhl

(Story)

Oct 12, 2014

Social Studies Student of The Month: Subraiz Ahmed

(Story)

Oct 08, 2014

Faculty Alumni Flashback: Mr. Romeo

(Story)

Sep 25, 2014
Sep 25, 2014

Joshua Tolentino: The Number One Ranked Sophomore

(Story)

Sep 25, 2014
Sep 25, 2014