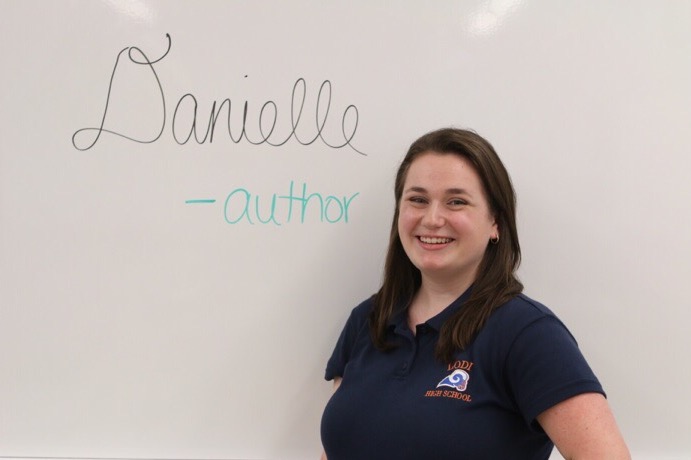 Q: What do you do on your free time (apart from school)?
A: I sing and volunteer my time tutoring and helping children at a day care.
Q: What do you plan on doing after high school:
A: After high school I plan to go to college for elementary education.
Q: What are you looking forward to this year?
A: I am looking forward to performing in the Drama Club spring musical, going to prom, writing for the Rampage, and making more memories with the senior class.
Danielle Manzetti, author
Jun 20, 2016

Senior Linkage 2016

(Story)

Jun 05, 2016
May 19, 2016

And the Prom Music Winner Is…

(Story)

May 08, 2016

LHS Takes on Disney World

(Story)

Apr 21, 2016

Stars on the Rise: Lukas Graham

(Story)

Mar 31, 2016

Stars on the Rise: Hamilton the Musical

(Story)

Mar 31, 2016

GSA Presents: Pride Week

(Story)

Mar 17, 2016

Stars on the Rise: Artists Back on the Radar

(Story)

Mar 17, 2016

Opening Night of 9 to 5 The Musical

(Story)

Mar 03, 2016

An Exclusive Look Behind the Scenes of "9 to 5 The Musical"

(Story)

Feb 11, 2016

In the Minds of Poets: Episode 5 Valentine's Day

(Story)

Feb 11, 2016

Classic Love Songs That Will Make Your Heart Melt

(Story)

Jan 31, 2016

Stars On The Rise: Sam Hunt

(Story)

Jan 14, 2016

Teacher's Hidden Talents: Ms. Garlasco

(Story)

Jan 14, 2016

A New Beginning: Mr. Masopust

(Story)

Jan 14, 2016

Best Music of 2015

(Story)

Dec 22, 2015

Stars on the Rise… or Fall: An Interview with the RAMones

(Story)

Dec 22, 2015

Santa and Rudy Return

(Story)

Dec 10, 2015

New School Year, New Musical: First Look Into the Cast of "9 to 5"

(Story)

Dec 10, 2015

Teacher's Hidden Talents: Mr. Galvin

(Story)

Dec 10, 2015

A Bear-y Special Surprise

(Story)

Nov 24, 2015

Teacher's Hidden Talent's: Ms. Getrajdman

(Story)

Nov 24, 2015

Thanksgiving Movies

(Story)

Nov 15, 2015

Look Your Best for Homecoming!

(Story)

Nov 15, 2015

Stars on the Rise: US The Duo

(Story)

Nov 15, 2015

Teacher's Hidden Talents: Mr. Schram

(Story)

Oct 30, 2015

Spooky, Creepy, Scary Halloween Movies

(Story)

Oct 30, 2015

Teacher's Hidden Talents: Mr. Tarleton

(Story)

Oct 15, 2015

Stars on the Rise: Prides

(Story)

Oct 15, 2015

Teacher's Hidden Talents: Mr. Morali

(Story)

Oct 15, 2015

Marching their Way to Victory

(Story)

Oct 01, 2015

Stars on the Rise

(Story)

Oct 01, 2015

Teachers' Hidden Talents

(Story)

Sep 18, 2015

Passion for Music, Pride for Marching

(Story/Media)