Passion for Music, Pride for Marching
For years, the Lodi High School Marching Band has been a crowd-pleaser for all the football games and events. From freshman, to senior leader, to teacher, The Rampage got an inside look as to why marching band is so successful.
Freshman, Sara Santana, was more than excited to talk with The Rampage. Sara first started playing music in the fifth grade when she was inspired by her neighbor. Since then, she has been playing the flute. When asked why she wanted to join marching band she said, "I had two friends who joined last year and they were always telling me how great and fun it is. Besides that, I like the experience of being in marching band and how you get more advanced with music."
The marching band is conducted by drum major, leader, and talented senior, Andrew Shahine. Andrew has been drum major for two consecutive years. Even though he was drum major during his junior year, he still had to try out again. The try outs consist of three parts: conducting, commands, and an interview. While Andrew is responsible for ensuring that everything on the field is in order, his favorite part about being drum major is conducting in front of the band: "When you are on the field, you don't exactly see how the show is going, but when you are a drum major you get to see how everything just starts forming together."
Even though it is a great deal of work, Andrew likes being part of a group that feels like family. The Rampage also had the opportunity to speak with Destiny Prado who is on the color guard. Color guard was added to the marching band last year. Destiny said that  she joined color guard because she likes to dance and also because she admired the close relationships of the marching band. Other than performing at games, the marching band also does competitions. This year the marching band will be competing in Disney World. When asked about it, Andrew was excited:
"I am absolutely excited! Not every drum major here gets to say they marched the parade in Disney and I am one of the few who do. I definitely know our band is good enough to make everyone at Disney really happy and excited!"
Dr. Macri is the band director and has done a phenomenal job inspiring her students. She was inspired to be involved with music by her mother who was a music teacher. Dr.Macri wanted to become a teacher to make a difference and has done just that. This year will be her 30th year of teaching. Some advice that she would give to freshman would be, "Without words you have to make the listener understand what you're trying to tell them, which is very difficult…So for freshman, don't be afraid to get in contact with who you really are and the emotions that you can share with somebody through music." When discussing her senior students, and them entering the world, Dr. Macri says that her hope is that they all carry the life lessons learned in class with them. She states, "I hope my voice is chirping in their head for the rest of their life and they carry it with them…[these lessons] are going to make them be better people and make a better world."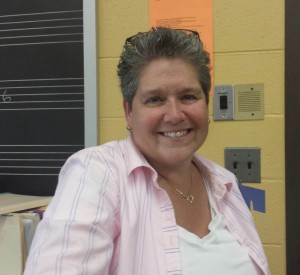 For marching band this year, Dr. Macri chose songs by The Doors. She chose this because she wanted to pick something that the audience would enjoy. Come to the games to support the marching band and while you are listening to their music, take a minute to appreciate the dedication and hard work that went into their wonderful performance!
(From left to right: Sara Santana, Destiny Prado, Andrew Shahine)
About the Contributor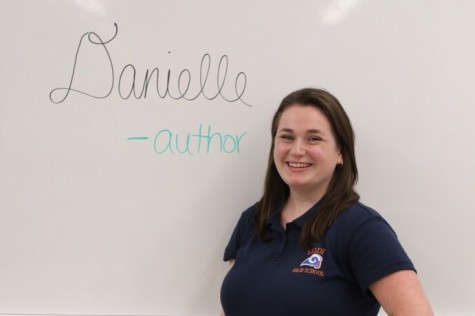 Danielle Manzetti, author
Q: What do you do on your free time (apart from school)?
A: I sing and volunteer my time tutoring and helping children at a day care.

Q: What do you...