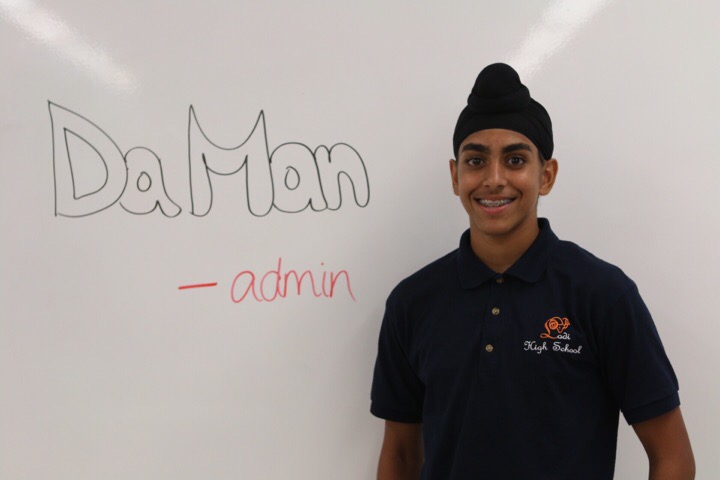 Q: If you could be any type of animal, which would you be and why?
A:  I'd be a lion because they're the king of the jungle, showing their strength and leadership.
Q: What are your plans for after high school?
A: I'm going to go to a four year college, followed by medical school, and, ultimately, become a surgeon. Then, rule the world.
Q: What are five words that describe you?
A: Five words to describe me: dedicated, easy going, hard working, loyal, and empathetic.
Damanveer Singh, admin
Jun 05, 2016

Lodi Bridge is Falling Down

(Story)

Jun 05, 2016
May 19, 2016

Battle of the Ballers

(Story)

May 19, 2016
May 08, 2016

Springing their Team to Victory

(Story)

May 06, 2016

How To Pass Your Road Test

(Story)

Apr 21, 2016

Sports Spring Fever

(Story)

Apr 21, 2016

Questions: Season Finale

(Story)

Mar 31, 2016

Long Time No Questions

(Story)

Mar 17, 2016

Lodi Idol: Finish the Lyrics

(Story)

Mar 17, 2016
Mar 03, 2016

Rams Shooting for the Stars

(Story)

Mar 03, 2016

Finishing the Season in Atlantic City

(Story)

Mar 03, 2016

Science League: The New Jocks

(Story)

Mar 03, 2016
Feb 11, 2016

Ram Center: Superbowl Edition

(Story)

Jan 31, 2016

The Student-Teachers?

(Story)

Jan 31, 2016

A Picture is Worth a Thousand Words

(Story)

Jan 14, 2016

Student See, Student Do

(Story)

Dec 22, 2015
Dec 22, 2015
Dec 10, 2015

Questions Are Back In Session

(Story)

Dec 10, 2015

Wrapping Up Domestic Violence

(Story)

Nov 24, 2015

A Historical Harvest

(Story)

Nov 15, 2015

Where Are They Now?

(Story)

Nov 15, 2015

Don't Cry Because It's Over, Smile Because It Happened

(Story)

Nov 12, 2015

Homecoming: The Generation Lost in Dance

(Story)

Oct 30, 2015

Super Seniors Sweep Powderpuff

(Story)

Oct 30, 2015

Tricky Questions but No Treats

(Story)

Oct 15, 2015

DIY: Applying to College

(Story)

Oct 15, 2015

Some New Sheriffs in Town

(Story)

Oct 15, 2015

A Blast to the Past: Teacher Throwbacks

(Story)

Oct 01, 2015

The Battle of Harrison Avenue

(Story)

Oct 01, 2015

Questions are in Session

(Story)

Sep 18, 2015

New Faces, Same Goals

(Story)