Sports Spring Fever

---
The Lady Rams are now 5-2 and are ranked nineteenth in The Record's softball Top 25. The team has had multiple contributions from players of different grade levels. Juniors Nicole Salvatore and Kayla Oakley and sophomore Emma Bernardo have driven in multiple runs for the Lady Rams with their clutch hits. Senior third baseman, Caitlin Hessberger and Junior first baseman, Raven Figuccio contribute their defensive skills to prevent opposing teams from scoring. Junior pitcher, Bryanna Bigica has struck out multiple batters she has faced to help the Rams secure their wins. With only one loss in their league, the Rams are looking to win a League title this season. Junior Nicole Salvatore says, "If we continue working hard and playing at our best level like I know we can, we have a really good chance at winning a league title this year." The Rams are currently second in their league but are looking to battle for the title by continuing to win as many games as they can in the next few weeks.
Baseball:
With a record of 4-5, the boys are looking to improve to a winning record. Sophomore shortstop Elian Guzman is currently batting .457 and leads the team with scored runs (13). Junior first baseman leads the team with nine RBI. Senior Jonathan Guerra continues to throw his hardest every time he pitches and has secured twenty-six strike outs. Guerra was also nominated as a candidate for the top pitcher in the North Jersey Interscholastic Conference. Junior Evan Geisler believes that if they play all seven innings strong and with energy, they will be able to win the games they need to advance. The boys will face Ridgefield Park this Friday; come out and support! 
Track:
With a complete shakeup in this year's lineup, from athletes to coaches, the track team is starting to get their feet underneath them. Led by Coach Manzo and Policastro, the motto of the team this year has been Dedication. Senior captains have made it their personal mission this year to lead by example. Often times showing up early and leaving late, the team has been inspired by their drive towards success. Some standout athletes so far have been sophomore Carlos Pepin, senior Desiree Bermudez, and Senior Ahmad Odeh. Keep up the hard work rams and remember that the entire school is cheering for you.
Tennis:
So far, the season hasn't been all sunshine and giggles for the varsity tennis team. With a losing record, the rams are trying to build up so momentum. Despite what their record might indicate, there have been plenty of bright spots for the rams so far. Captains Osama Alsafarjalani and Darren Bustos are optimistic that their team will be able to turn the season around. When the Rampage spoke with Bustos, he said "It's tough losing matches back to back because it really destroys the team's morale. Still, I'm so proud of all the work the team has put in and still believe that we have the heart and skill to be able to get some wins." Some powerful words indeed by the captain regarding his team. The Rams' next match is on Thursday, April 28. Go out and support your Rams against New Milford. Best of luck!
About the Contributor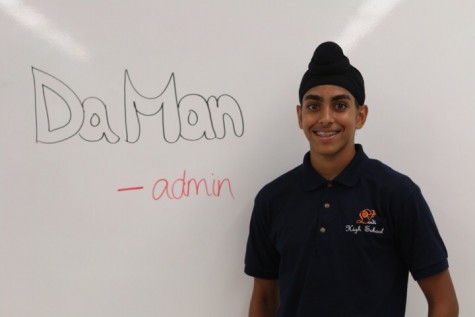 Damanveer Singh, admin
Q: If you could be any type of animal, which would you be and why?
A:  I'd be a lion because they're the king of the jungle, showing their strength and...