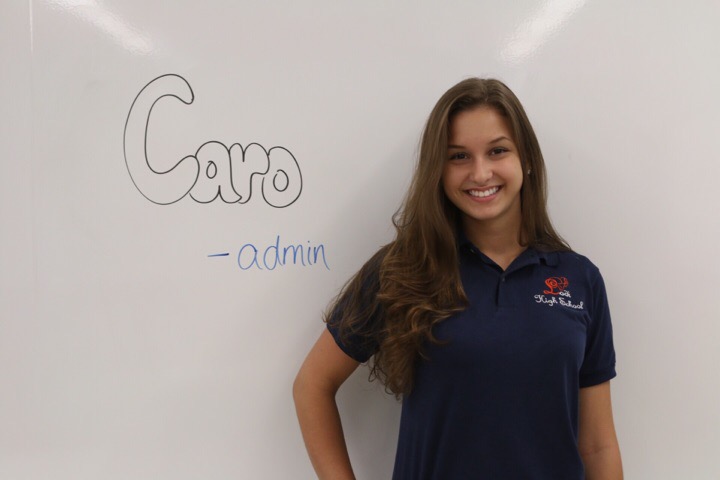 Q: How would you describe yourself in only five words?
A: I'd described myself as empathetic, open-minded, diligent, respectful, and responsible
Q: What are you looking forward to this school year?
A: I'm really looking forward to spending my final chapter of high school with my friends. I cannot wait for the fun activities coming up, such as PowderPuff, Homecoming, Prom, the Senior Trip, and just working together with a great group of people who are part of the Lodi Rampage.
Q: If you could be any type of animal, which animal would you be and why?
A: I would be a horse because I grew up with them when I was a kid and I am part of the Horses of 2016<3
Caroline Kolenski, Admin
Jun 20, 2016

Graduating Teacher Class of 2016

(Story)

Jun 20, 2016
Jun 05, 2016

Dance Competition

(Story)

Jun 05, 2016
May 19, 2016
May 19, 2016

The Star Students of Lodi High School: Part 3

(Story)

May 08, 2016

The Future of Medicine

(Story)

May 08, 2016

Touchdown for Student Gov.

(Story)

Apr 20, 2016
Mar 31, 2016

NHS Induction Ceremony – Chapter 1559

(Story)

Mar 17, 2016

Blasting to the Top!

(Story)

Mar 16, 2016

The Star Students of Lodi High School: Part 2

(Story)

Mar 03, 2016
Mar 03, 2016

Cookin' Up Crêpes

(Story)

Feb 11, 2016

Playing Games to Change Lives

(Story)

Jan 31, 2016
Jan 14, 2016

Life has No Limitations

(Story)

Jan 14, 2016

Nursing LHS Back to Health

(Story)

Jan 14, 2016
Jan 14, 2016

Freshmen Find Their Wings

(Story)

Jan 14, 2016

Preventing Senioritis

(Story)

Dec 22, 2015
Dec 22, 2015

The Star Students of Lodi High School

(Story)

Dec 10, 2015

Back to Where it Began: Washington School

(Story)

Dec 10, 2015

The Keystone of Thanksgiving

(Story)

Dec 10, 2015

Straight Outta LHS

(Story)

Nov 24, 2015

Teacher See, Teacher Do

(Story)

Nov 24, 2015

Who Inspires You?

(Story)

Nov 15, 2015

Hello? Lodi High School, This is ______ Speaking!

(Story)

Nov 15, 2015

Rams Go to College

(Story)

Nov 15, 2015

A Little Party Never Killed Nobody

(Story)

Oct 30, 2015

May the Moles be with You

(Story)

Oct 30, 2015

The Return of the Haunted House

(Story)

Oct 30, 2015

DIY: Halloween Costume

(Story)

Oct 30, 2015

The Dastardly Duo: An LHS Halloween Tradition

(Story)

Oct 15, 2015

The People Behind Lodi

(Story)

Oct 12, 2015

Bolstering Student Involvement

(Story)

Oct 01, 2015

Student Gov: The Votes are In!

(Story)

Oct 01, 2015

The Bookworms of LHS

(Story)

Oct 01, 2015

A Council that Works for You

(Story)

Oct 01, 2015

The Best Trainer and That's a No Brainer

(Story)

Sep 18, 2015
Sep 18, 2015

New Year, New Teachers!

(Story)

Sep 18, 2015

Rams Bringing the Pride Outside

(Story)