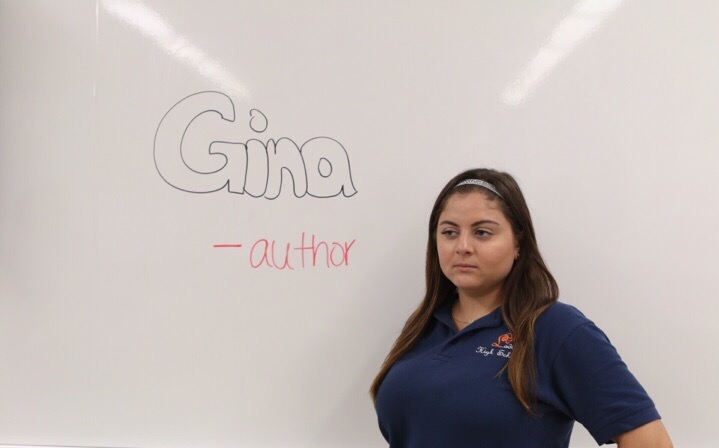 Q: If you could be any type of animal, which animal would you be and why?
A: I would be a zebra because they're majestic and so am I.
Q: What do you plan on doing after high school?
A: I plan on going to a four year college and studying speech pathology.
Q: What are you looking forward to this school year?
A: This year, I'm looking forward to working with everyone on the Rampage and making it the bomb.com!
Gina Lisa, author
Jun 20, 2016
Jun 05, 2016
Jun 05, 2016

In the Mind's of Poets: Episode 11

(Story)

May 08, 2016

In the Minds of Poets: Episode 10

(Story)

Apr 21, 2016

In the Minds of Poets: Episode 9

(Story)

Mar 30, 2016

In the Mind's of Poets: Episode 8

(Story)

Mar 17, 2016

In the Minds of Poets: Episode 7

(Story)

Mar 03, 2016

In the Minds of Poets: Episode 6

(Story)

Feb 12, 2016

Thanking Our Counselors

(Story)

Feb 11, 2016

In the Minds of Poets: Episode 5 Valentine's Day

(Story)

Feb 11, 2016
Jan 31, 2016

In the Minds of Poets: Episode 4

(Story)

Jan 14, 2016

In the Minds of Poets: Episode 3

(Story)

Dec 22, 2015

Santa and Rudy Return

(Story)

Dec 22, 2015

In the Minds of Poets: Episode 2

(Story)

Dec 22, 2015

Saving Lives One Pint of Blood at a Time

(Story)

Dec 10, 2015

New School Year, New Musical: First Look Into the Cast of "9 to 5"

(Story)

Dec 10, 2015

In the Minds of Poets: Episode 1

(Story)

Nov 15, 2015

Look Your Best for Homecoming!

(Story)

Nov 13, 2015
Oct 30, 2015

Make it Orange and make it end!

(Story)

Oct 01, 2015

The Battle of Harrison Avenue

(Story)

Sep 18, 2015

Tennis Season: Coach D'Alessio Serves Us His Thoughts!

(Story)

Sep 18, 2015

Game Set Match! Captain Mailan Bay and Her Love for Tennis

(Story)

Sep 18, 2015

New Player to Hit the Court!

(Story)