Rams Coming Home
Despite their 46-21 loss, the Lodi Rams were still supported and acknowledged for their last home game of the season. Senior marching band members, cheerleaders, and football players were walked out by family members and loved ones before the game began. After their acknowledgement, the game began with an eighty-four yard kickoff return from Steven Villa only nineteen seconds into the game. New Milford then retaliated by scoring five times by the end of the first half.
During halftime, the Homecoming Queen, Toni Ann Pierce, and her court, first runner-up, Hannah Arp, second runner-up, Lili Vizcaino, and third runner-up, Desiree Bermudez, fashionably made their way on to the field by riding on the top of astonishing cars. Each girl was called to the middle of the field, one-by-one, starting with the third-runner up, where they were greeted by Principal Mr. D'Amico and president of Lodi's Board of Education, Mr. Joseph Licata. After each girl made her way to the middle of the field, Toni Ann was then crowned by Mr. Licata. "Being Lodi's 2015 Homecoming Queen is definitely surreal," says Toni Ann. "It's truly an honor and something I'll remember for the rest of my life."
After the halftime show came to a close, the game continued on. Lodi's defense only allowed New Milford's offense to score once in the third quarter and once in the fourth. In the fourth quarter, Lodi's offense came through once again. Not only did Quarterback Steven Villa complete a twenty-two yard pass to Carlos Pepin for a touchdown, but Senior Captain Cole Villacis also ran thirty-five yards for a touchdown. Although the boys fell short, their willingness and determination never fails; they fight hard until the very end which is a valuable quality for any team. As the football season comes to an end so do the seniors' high school football, cheerleading, and marching band careers. Although this wasn't the best season the football team has seen, the seniors will never be able to forget the memories they created on the field.
About the Contributor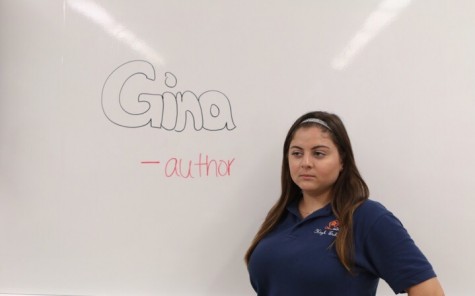 Gina Lisa, author
Q: If you could be any type of animal, which animal would you be and why?
A: I would be a zebra because they're majestic and so am I.

Q: What do you...