Tennis Season: Coach D'Alessio Serves Us His Thoughts!
With the beginning of the 2015-16 tennis season approaching, Coach D'Alessio had a lot to say about the upcoming tennis season and how he feels about new and improved players.
Q: How many years have you been coaching girls tennis?
A: "I have been coaching girls tennis for 12 years; I started in 2003 and this will be my 13th season."
Q: Who has improved the most from last year to this year?
A: "It seems like everybody has improved a little bit from last year to this year, but so far the most improved player at this point is Gabriela Castro."
Q: Considering that a majority of the team this year will be graduating do you have any worries or doubts for next year?
A: "Well, you always have worries. I actually have worries this year, even though they're all seniors, most of them have not played competitive tennis and we're just starting our season, but we're looking forward to a successful one. But yes I always have concerns for next year, however, I'm hoping that the younger players this year will learn and step up to fill in the voids for next year."
Q: What are your thoughts about this year's season?
A: "Once again we're a rather old team; mostly seniors are in the starting line-up and are fairly new to that position. We're looking forward to a winning season or possibly to be .500 or to have as many wins as we do losses and if that's the case we will make the state tournament and that is one of our goals."
Q: What are the top players strengths? What are their weaknesses?
A: "The top players' strengths are character, attitude, and a lot of hustle. At this point it seems that their weaknesses is their serving so we really need to work on that and court awareness."
Q: Do you think the team learns more from wins or losses?
A: "I think a good player would learn from both. They can learn from a win and being happy, but sometimes they can actually learn more from a loss if they look at what they did and see where they can improve and where they can do things differently the next time they face that opponent."
Q: After a 5-0 victory over Mary Help last season, do you think that the team has the ability to do that again?
A: "Well I feel the team has they ability, but they cannot get over confident because each year every team goes through changes and you don't know who you're going to face, so you have to play the game and be ready for that you can't take anything for granted."
Q: Which opponent do you think will be the most difficult to beat this season?
A: "Typically the last few years it's been Glen Rock. Their program is very advanced. They have a lot of returning young players and they are the returning pre-season favorite of the league."
Q: Which is more important: Winning or Sportsmanship?
A: "Well I think with that particular question it's important to have both. Winning is obviously nice, but you need to have sportsmanship whether you win or lose and our girls do have that. We instill that through day one in practice."
Q: Just for laughs… Wilson or Penn?
A: "Slazenger."
About the Contributor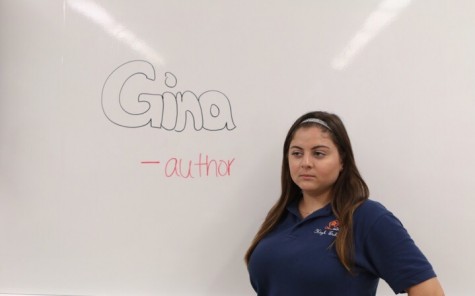 Gina Lisa, author
Q: If you could be any type of animal, which animal would you be and why?
A: I would be a zebra because they're majestic and so am I.

Q: What do you...