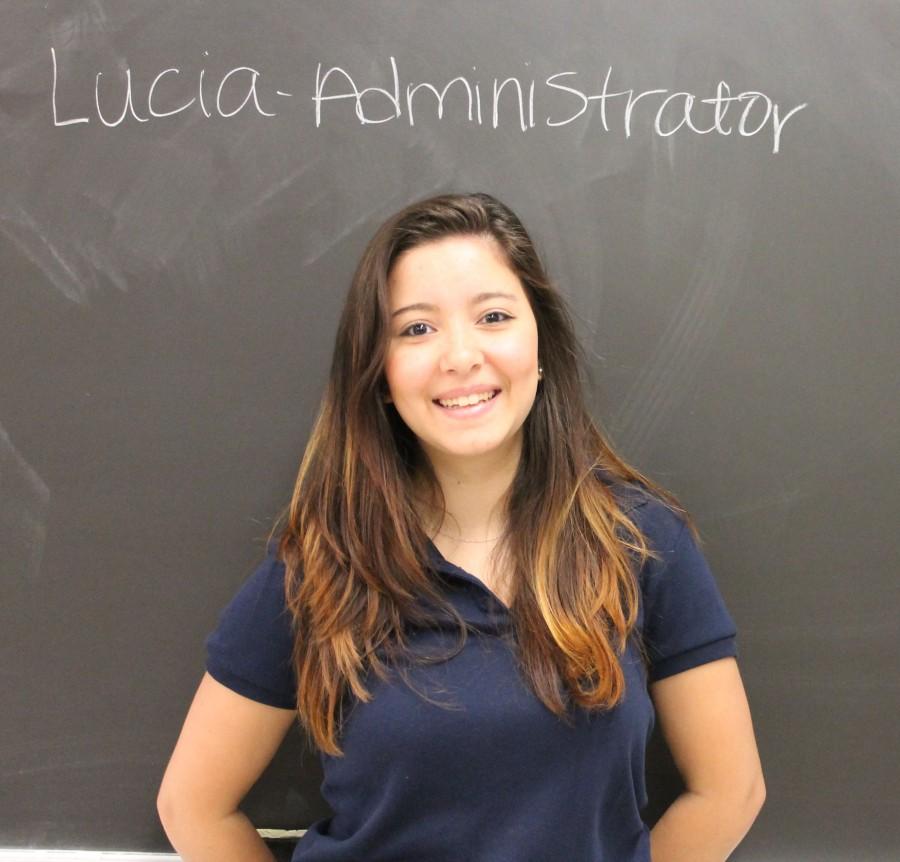 Q: What do you like to do out of school?
A: Reading, writing poetry, volunteering, bike riding, and baking.
Q: Where do you see yourself in a year?
A:  The University of Georgia, but not sure what major to go into.
Q:What is your favorite color?
A:
Teal
Q: What is the most bizarre food you have ever eaten?
A: Shark and squid. I ate them because I have always liked seafood and my dad made me try it.
Q: Do you have any fun facts?
A: I call EVERYONE hun and I love oreo cookies with peanut butter.
Lucia Baez, Administrator
Jun 16, 2015

Senior Linkage Class of 2015

(Story)

May 25, 2015
May 25, 2015

Spring Band Concert

(Story)

May 25, 2015
May 10, 2015

Teacher Appreciation Week

(Story)

Apr 23, 2015

Finish the Lyrics

(Story)

Apr 03, 2015

The Last Coffee House

(Story)

Mar 30, 2015
Mar 16, 2015

After the curtain closes…

(Story)

Mar 05, 2015
Feb 12, 2015

Valentine Jibjabs

(Story)

Feb 11, 2015

Interact Club Videogame Tournament

(Story)

Feb 11, 2015

How to Make Someone's Day

(Story)

Jan 29, 2015

Not Just a Cup of Joe at this Coffee House!

(Story)

Jan 15, 2015
Dec 22, 2014
Dec 20, 2014

Holiday Music Travels The World

(Story)

Dec 11, 2014

Winter Holiday Concert

(Story)

Nov 24, 2014

November Coffee House

(Story)

Nov 22, 2014

Thanksgiving JibJabs

(Media)

Nov 13, 2014

The University of the Arts

(Story)

Nov 13, 2014

Interact Club Fall Festival

(Story)

Oct 31, 2014

LHS Halloween '14

(Story)

Oct 31, 2014

Top Halloween Songs

(Story)

Oct 27, 2014

Under the Sea Homecoming

(Media)

Oct 27, 2014

Feed the Birds, Support the Cause

(Story)

Oct 24, 2014

This is No Piece of Pie…

(Story)

Oct 24, 2014
Oct 08, 2014

Featured Band: Vinyl Romance

(Story)

Sep 24, 2014

They March, They Cry, They Sweat Together

(Story)

Sep 21, 2014

Diversity in Music

(Story)