Not Just a Cup of Joe at this Coffee House!
On Jan. 16, Ms. Macri, with the help of the Jazz Band and parents, put up the second Coffee House of the year transforming the cafeteria into a seemingly different place flowing with energy and talent. As per Coffee House tradition, the jazz ensemble started off the anticipated event with a colorful performance that contrasts the rest of the night. They were followed by the first official performance by Kyle Crouchelli and Jonah Balagtas, both juniors who performed another jazzy song accompanied by a welcomed LHS outsider, Miles Mcgowan. Kyle and Jonah performed again later on in the night, singing "How Long Have You Known" by Dive.
For the next performance, junior, Osama Al Safarjalani, and freshman, Samantha Guerra, sang "Little Talks" by Of Monsters and Men, accompanied by the great LHS Piano Man,  David Parra. Osama stepped up to the mic again, this time singing a solo of "I won't Give Up" by Jason Mraz (you will find a short video of the performance below in the slideshow).
Of course, we cannot forget this year's host, Jimmy Scalia, with guest host, Juan Vargas; the pair really amped up the night. Another memorable performance of the night included Kayla Fiscina and Dhielan Bustos's poem, "Here We Go Again" written by Kayla herself. The poem exposes the constant complains against rape poems, countering that the poems will be around until rape is no longer a societal problem. Later in the night, David Parra sat at the piano again, this time accompanied by the compelling voice of Sofia Agolli singing "Turning Tables" by Adele.  Jason Lambe sat under the spotlight with his mysterious, marvelous instrument called Ocarina, playing some exotic tunes. We cannot forget the sweet voice of Raquel Dy, with a special song dedicated to her boyfriend that night.
Finally, as per Coffee House tradition, Allie Vazquez with Ms. Getradjman geared up with guitar and ukelele, conducting a medley of songs such as "Dead Sea" by The Lumineers, "What are you doing New Year's Eve" by Ella Fitzgerald and "Hey Ya!" by OutKast. The night ended the way it began with the jazz ensemble.
Ms. Macri announced that the next Coffee House will be in April, so start prepping coffee lovers, and open mic goers!
[slideshow_deploy id='3296′]
About the Contributor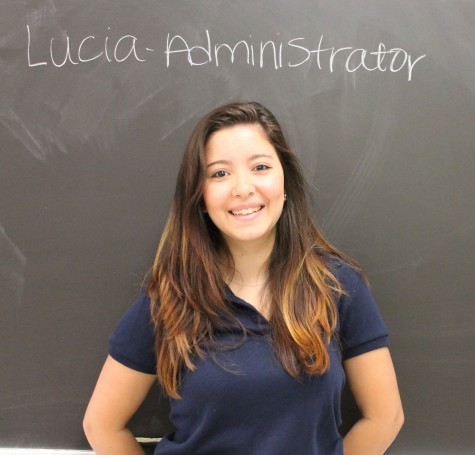 Lucia Baez, Administrator
Q: What do you like to do out of school?

A: Reading, writing poetry, volunteering, bike riding, and baking.

Q: Where do you see yourself in a year?

A:...