A Year in Music
It is hard to tell what each year may bring when it comes to music, since artists tend to be mysterious and secretive about their upcoming releases. However, 2014 was unexpected, from surprising performances by Beyonce, Taylor Swift and Sam Smith at the VMA's, to Ariana Grande's famed moment at the Victoria's Secret Fashion Show.
Some memorable music videos of 2014 include Sia's "Chandeliers," Nicki Minaj's "Anaconda," Iggy Azalea and Rita Ora's "Black Widow," Bruno Mars's "Uptown Funk," Jason Derulo's "Talk Dirty To Me," Katy Perry's "Dark Horse," and Taylor Swift's "Shake it Off" and "Blank Space." Here's a list of the top 10 artists of the year according to Billboard's Year End Top 100 Artists:
One Direction
Katy Perry
Beyonce
Taylor Swift
Justin Timberlake
Iggy Azalea
Ariana Grande
Miley Cyrus
Pharrell Williams
Eminem.
Also, some top songs to encompass 2014: Ed Sheeran's "Thinking Out Loud" and "Don't," Iggy Azalea's "Fancy," Pharrell's "Happy," Ariana Grande's "Problem" ft. Iggy Azalea and "Love Me Harder," Joh Legend's "All of Me," Magic's "Rude," Sam Smith's "Stay with Me," OneRepublic's "Counting Stars," Nico & Vinz's "Am I Wrong," "Say Something" by a Great Big World and Christina Aguilera, "Maps" by Maroon 5, "The Story of My Life" by One Direction and countless more…
Other memorable aspects of a year in music include Beyonce's top-secret unexpected album release, Miley Cyrus's Video of the Year acceptance, by a homeless man, Meghan Trainor's home-hitting song "All About That Bass," the songs from Frozen that enraptured all ages, Shakira's song and music video for the World Cup in Brazil, and amazing artists made their debut such as Charli XCX and Hozier.
While this is just a quick review of the major impact the music industry had on 2014, the list is endless and unexpected to say the least. But the year is done and over and the suspense of a new one is just beginning, with music awards looming close and 365 days to make us feel that spark of music all over again.
About the Contributor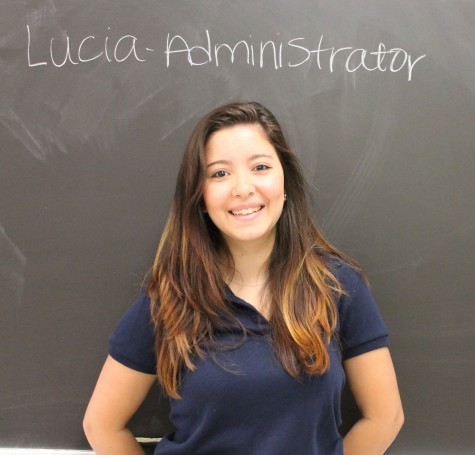 Lucia Baez, Administrator
Q: What do you like to do out of school?

A: Reading, writing poetry, volunteering, bike riding, and baking.

Q: Where do you see yourself in a year?

A:...