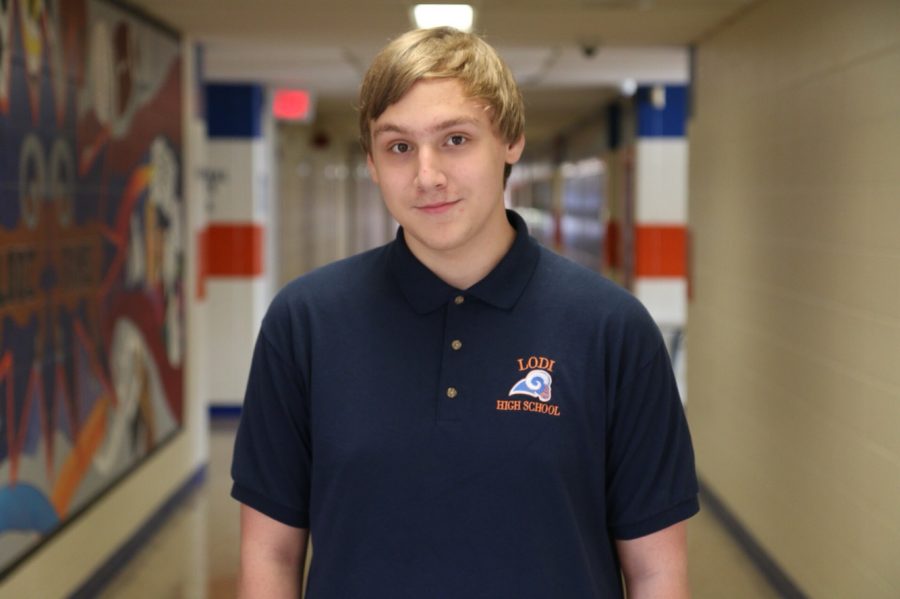 Q:What are you most looking forward to now that it's your senior year?  
A: Justin is very excited about the spring musical. Since he is a senior and this is his last time to shine on Lodi High School's stage, he wants to end it with a big bang!
Q:What made you interested in Drama Club?
A: Drama Club drew Justin's attention because of the diversity of students who were in it. The club seemed extremely welcoming due to the variety of people.
Q:Do you enjoy being a twin?
A: Justin does enjoy being a twin because it has it's perks and it's incredible how people with similar genetic makeup can be so different.
Q:Is there anyone in particular that you look up to?
A: Justin looks up to Ms. Gillenson, a former teacher and assistant coach (Drama Club) at Lodi High School, because she helped him get through high school not only as a teacher, but also as a friend.
Q:What is your favorite TV show?  
A: Justin's favorite TV show would be American Horror Story. He gives it a big thumbs up and would recommend it. 
P.S. You should watch it too!
Interviewed by Paola De La Cruz
Justin Clancy, Author
Jun 20, 2017

Scholarship Night 2017

(Story)

Jun 20, 2017

Ending the Year with Powerback

(Story)

May 19, 2017

Summer of Thrills

(Story)

May 05, 2017

Trump's First 100 Days

(Story)

May 05, 2017

National Principals' Day Appreciation

(Story)

Apr 13, 2017

An Inside Look of The Listening Room

(Story)

Mar 30, 2017

Best Picture: Moonlight

(Story)

Mar 09, 2017

The 89th Academy Awards: An LHS Take

(Story)

Feb 19, 2017

LHS Celebrates Black History Month

(Story)

Feb 14, 2017

From Flowers to Friend Requests: The Evolution of Dating

(Story)

Jan 19, 2017

The Inauguration of Donald Trump

(Story)

Jan 13, 2017
Dec 21, 2016

Tenth Day of Christmas

(Story)

Dec 20, 2016

Ninth Day of Christmas

(Story)

Dec 08, 2016

Mannequin Challenge

(Story)

Nov 23, 2016
Nov 10, 2016

Drama Club: Cinderella Like You've Never Seen

(Story)

Nov 10, 2016

President-Elect Trump

(Story)

Oct 30, 2016

Movie Column: The Purge Election Year

(Story)

Oct 30, 2016

Stranger Things at LHS

(Story)

Oct 13, 2016

The Presidential Election of 2016: An LHS Summary

(Story)

Oct 13, 2016

Drama Club: Cinderella Auditioning

(Story)

Sep 29, 2016

A Stage of Many Colors

(Story)

Sep 18, 2016

Meet the Music of LHS Choir!

(Story)