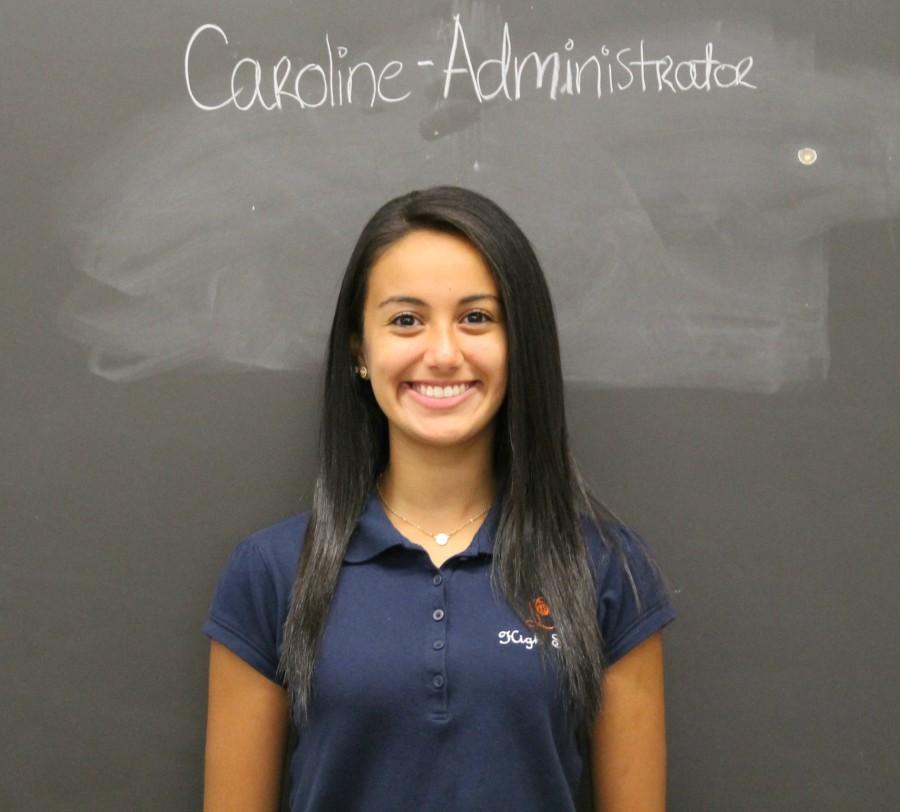 Q: What are your favorite hobbies?
A:
Dancing, of course & tennis! 
Q: Will you pursue dancing after high school?
A:
Yes, I would like to try out for a dance team in college.
Q: What College do you want to attend?
A: Fairleigh Dickinson University, Florham Campus.
Q: What do you want to study in college?
A:
For my undergraduate I would like to major in Secondary Education to become an English teacher and for my graduate- guidance counseling!
Q: Did you enjoy your high school experience?
A: Y
es! Very much. I'm  involved in various clubs and am Captain of the Varsity Tennis Team.
Caroline Romero, Administrator
Jun 16, 2015
May 25, 2015
May 25, 2015

Student of the Month: Diego Baez

(Story)

May 10, 2015

Senior Class Trip

(Story)

May 10, 2015
May 10, 2015

Top 10: 8, 7, & 6

(Story)

Apr 22, 2015

Top 10 Students: Issue 10 and 9

(Story)

Apr 03, 2015

Senior Fashion Show

(Story)

Mar 31, 2015

National Honor Society Induction

(Story)

Mar 30, 2015
Mar 19, 2015

Spring Is In The Air

(Story)

Mar 05, 2015

Sadies: The Thought That Counts

(Story)

Mar 05, 2015

Join "Team A.J." Today!

(Story)

Mar 05, 2015

Mame: Exclusive Interview with Directors

(Story)

Feb 12, 2015

Consumer Bowl Champs

(Story)

Feb 12, 2015

FBLA State Competitive Events

(Story)

Feb 11, 2015

Super-Star-Seniors

(Story)

Feb 05, 2015
Jan 28, 2015
Jan 28, 2015

ATTENTION ALL SENIORS

(Story)

Jan 15, 2015

Reach for the Stars!

(Story)

Jan 15, 2015

Goodbye to 2014 and Hello to 2015!

(Story)

Dec 22, 2014

The Truth Behind Santa Claus

(Story)

Dec 10, 2014

Future Business Leaders of America

(Story)

Dec 10, 2014

Lending a Hand, One Toy at a Time

(Story)

Dec 10, 2014

Christmas Cheer, Santa Grams are here!

(Story)

Nov 25, 2014

College Financial Aid & FAFSA Day

(Story)

Nov 13, 2014
Oct 31, 2014

Flashback Friday! Guess Who: Lodi Rampage Staff! – Halloween Edition

(Story)

Oct 31, 2014

Flashback Friday! Guess Who: LHS Staff – Halloween Edition

(Story)

Oct 27, 2014

Under the Sea Homecoming

(Story)

Oct 22, 2014
Oct 12, 2014

You've Been Served

(Story)

Sep 25, 2014

Student Gov. Advisor: Mr. Galvin

(Story)

Sep 25, 2014

Junior Class Advisor: Ms. Garcia

(Story)

Sep 25, 2014

Senior Class Advisor: Mrs. Orosz

(Story)

Sep 25, 2014

Freshman Class Advisor: Ms. Policastro

(Story)