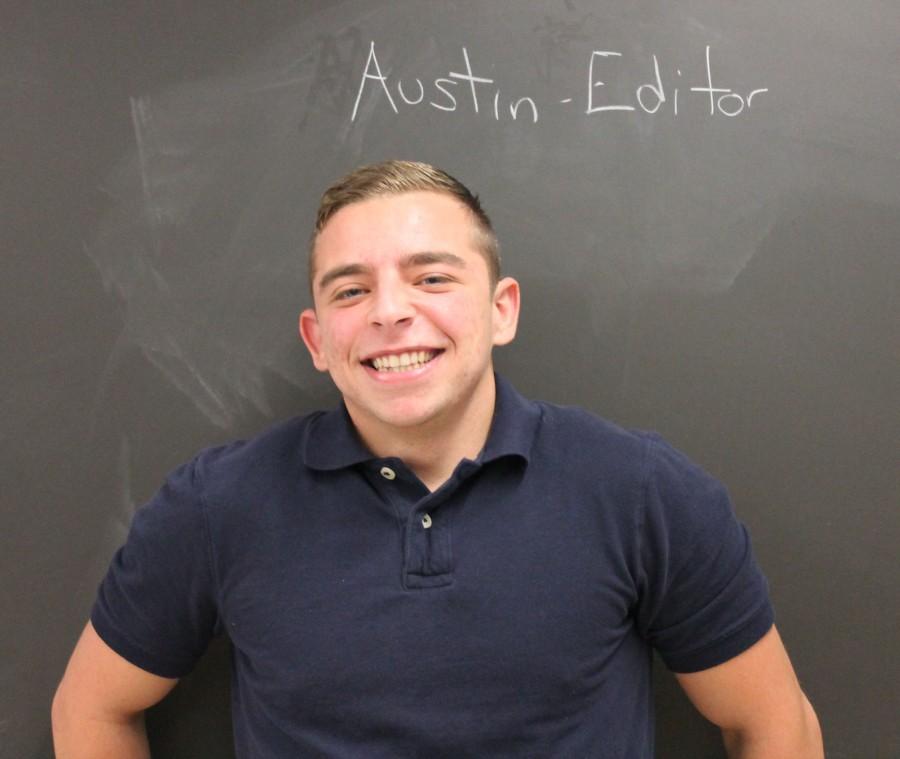 Q: What is your favorite sports team?
A: Yankees and Giants
Q: Where do you want to go for college/ what major do you want?
A: NJIT for architecture
Q: What role are you in Digital Journalism?
A: Editor and Food Critic
Q: Favorite food and favorite color?
A: Sushi and purple
Q: Craziest thing you have ever done?
A: Swam with sharks
Austin Roberts, Editor
Jun 18, 2015

Senior Trip~ Pocono Valley 2015

(Media)

Jun 16, 2015

Chinatown Gourmet

(Story)

May 25, 2015
May 10, 2015
Apr 02, 2015

DIY: How To Dye Easter Eggs

(Story)

Mar 19, 2015

DIY: Preparing for Spring

(Story)

Mar 05, 2015
Feb 12, 2015

DIY: How To Ask Someone To Be Your Valentine

(Media)

Feb 09, 2015

Love, Romance, and Sliders

(Story)

Jan 28, 2015

Chipotle Mexican Grill

(Story)

Dec 22, 2014

DIY: How To Build A Gingerbread House

(Story)

Dec 09, 2014
Nov 25, 2014

Thanksgiving Traditions

(Story)

Nov 25, 2014

DIY: How To Stuff A Turkey

(Story)

Nov 13, 2014

Moe's Platters: "The New Taste of Lodi"

(Story)

Nov 13, 2014

New NHS Inductees!

(Story)

Oct 31, 2014

DIY Costume: Become a ghost in 3 easy steps!

(Story)

Oct 27, 2014

Interview Tips & Resume Writing

(Story)

Oct 12, 2014
Oct 08, 2014

3.. 2.. 1.. Liftoff!

(Story)

Sep 25, 2014

College Kickoff Week

(Story)

Sep 24, 2014