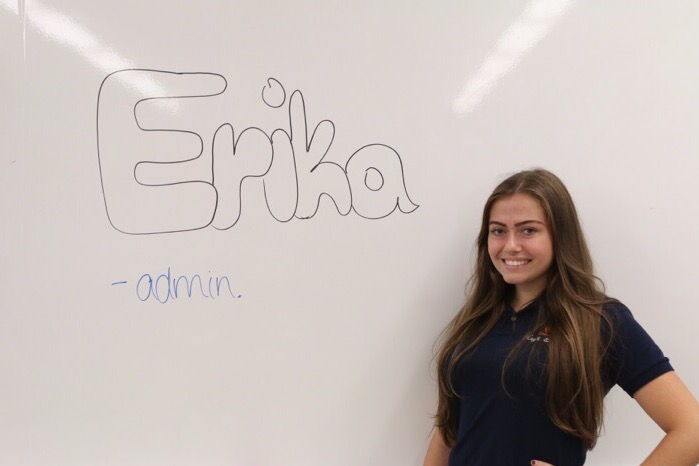 Q: What are your plans for after high school?
A: After high school, I plan on going to college and then eventually medical school. If that all works out, I will hopefully be a dermatologist by the end of it. So, come to me with your skin care needs in 10 years!
Q: How would you describe yourself in only five words?
A: In five words I would describe myself as trustworthy, loyal, dependable, persistent, and passionate. I feel that people can always rely on me and know that I will always be there for them. Also, I am so strong-willed and don't give up easily on things that really mean a lot to me.
Q: What are you looking forward to this school year?
A: There's a lot to look forward to this year, but I'm probably most excited about prom. Prom is something that I have been excited about since entering high school. There's something about getting all dressed up that makes me feel really good. It's also the last time that the entire class of 2016 will be together and that's a big deal. I'm hoping that this year is one that I'll remember forever.
Erika Cake, admin
Jun 19, 2016

Seniors: One Last Goodbye

(Story)

Jun 05, 2016
May 19, 2016

Pay No Fee, Prom Dresses for Free!

(Story)

May 08, 2016

Teacher Appreciation Week

(Story)

May 08, 2016

Pre-Graduation Checklist

(Story)

Mar 30, 2016
Mar 17, 2016

Gaming Club: Unlocking New Levels at LHS!

(Story)

Mar 16, 2016

The Star Students of Lodi High School: Part 2

(Story)

Mar 03, 2016

Students' Hidden Talents

(Story)

Mar 03, 2016
Feb 11, 2016

It's Not Just A Date

(Story)

Jan 14, 2016

Spreading Positivity

(Story)

Dec 22, 2015
Dec 22, 2015

Holiday Gift Guide

(Story)

Dec 10, 2015

National Honor Society Induction

(Story)

Nov 24, 2015

Feast Your Eyes On These Traditions!

(Story)

Nov 15, 2015

Class Level Advice – Fund Your Way!

(Story)

Nov 15, 2015

Heroes to the Rescue!

(Story)

Oct 30, 2015

And Your Homecoming Queen is…

(Story)

Oct 15, 2015
Oct 15, 2015

Cheers to High School Years

(Story)

Oct 12, 2015

Bolstering Student Involvement

(Story)

Oct 01, 2015

Class Level Advice – Keeping Informed

(Story)

Oct 01, 2015

College Weekly – Ep. 02 – Dorm or Commute?

(Story)

Sep 18, 2015

Class Level Advice – Welcome Back!

(Story)