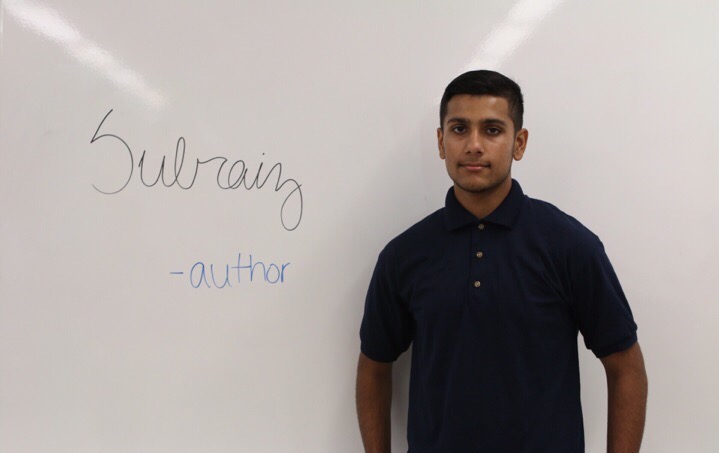 Q: If you could be any animal, which animal would you be and why?
A: I would be a mantis shrimp, because they have the ability to see colors no human could ever see.
Q: What do you plan to do after high school?
A: After high school, I plan on going to college and majoring in astrophysics.
Q: Describe yourself in five words.
A: If I had to describe myself in five words they would be: hardworking, creative, intuitive, friendly, and outgoing.
Subraiz Ahmed, author
Jun 20, 2016

The Best Day of My Life

(Story)

Jun 05, 2016

Lodi Bridge is Falling Down

(Story)

Jun 05, 2016
May 19, 2016
May 06, 2016

How To Pass Your Road Test

(Story)

Apr 21, 2016

Questions: Season Finale

(Story)

Apr 21, 2016

Flag Football Tournament

(Story)

Mar 31, 2016

Long Time No Questions

(Story)

Mar 17, 2016

Lodi Idol: Finish the Lyrics

(Story)

Mar 03, 2016

Science League: The New Jocks

(Story)

Feb 11, 2016

Questions: Presidents' Week Edition

(Story)

Jan 31, 2016
Jan 31, 2016

A Picture is Worth a Thousand Words

(Story)

Jan 31, 2016

The Student-Teachers?

(Story)

Jan 14, 2016

Student See, Student Do

(Story)

Dec 22, 2015

DIY: Wrappin' Up Christmas Joy

(Story)

Dec 22, 2015
Dec 22, 2015
Dec 10, 2015

Questions Are Back In Session

(Story)

Nov 24, 2015

A Historical Harvest

(Story)

Nov 15, 2015

Where Are They Now?

(Story)

Nov 12, 2015

Homecoming: The Generation Lost in Dance

(Story)

Oct 30, 2015

The Return of the Haunted House

(Story)

Oct 30, 2015

Tricky Questions but No Treats

(Story)

Oct 15, 2015

DIY: Applying to College

(Story)

Oct 15, 2015

A Blast to the Past: Teacher Throwbacks

(Story)

Oct 01, 2015

Questions are in Session

(Story)

Sep 18, 2015

Deja Vu on the Soccer Field

(Story)

Sep 18, 2015

Rampage Heads to the Soccer Field

(Story)