Rampage Heads to the Soccer Field
The Rampage paid a visit to the Varsity Boys Soccer Team and sat down with Captains,  John Wagner, Osama Mustafa, and Coach Sera. They shared their upcoming expectations of the season, and for whom we should be on the lookout. Coach Sera shared the new formation he plans on using this season and how it will effectively help the team succeed.
Interview With the Captains
-What are your expectations for the upcoming season?
"This season is going to be a struggle, as we have faced many injuries. We are going to make the best of the season, and I believe that we can go all the way this year." –

John Wagner
-What is Coach Sera doing different this year?
"The formation. This year we are going to play a 3-5-2 instead of a 4-4-2. Basically we are trying to win the midfield, because in soccer if you win midfield you win the game. We are going to have more players attacking this year." –

Osama Mustafa
-How do you plan on adjusting to the loss of the senior captains?
"They were a big impact on our team, but we feel like we have other players that can step up to their roles." –

John Wagner
-Any new players that are going to stand out?
"Our team is young. Last year we lost Juri, our best striker, but this year, in his place, we have Joan Spirollari and Brian Williams. We also have a new starting goalie, Mason Rivera. Even though he is only a junior this year we expect the most out of him." –

John Wagner
-Being captains, what are your roles and responsibilities?
"We have to motivate the team and teach them how to be tough. Basically, make the team play to the best of their abilities and as a unit. We know they can play good, but it is our role to make them play great." –

Osama Mustafa
-Do you have any words that you would like to share?
"I hope that we can make a success of this season. I wish all my teammates luck and I know that this is our year, so let's make the best of it." –

John Wagner
About the Contributor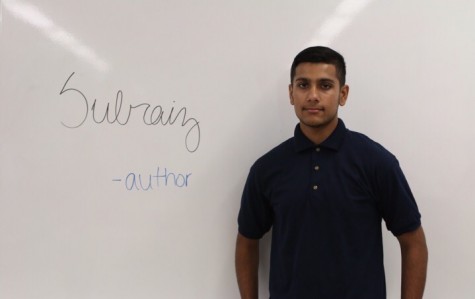 Subraiz Ahmed, author
Q: If you could be any animal, which animal would you be and why?
A: I would be a mantis shrimp, because they have the ability to see colors no human...