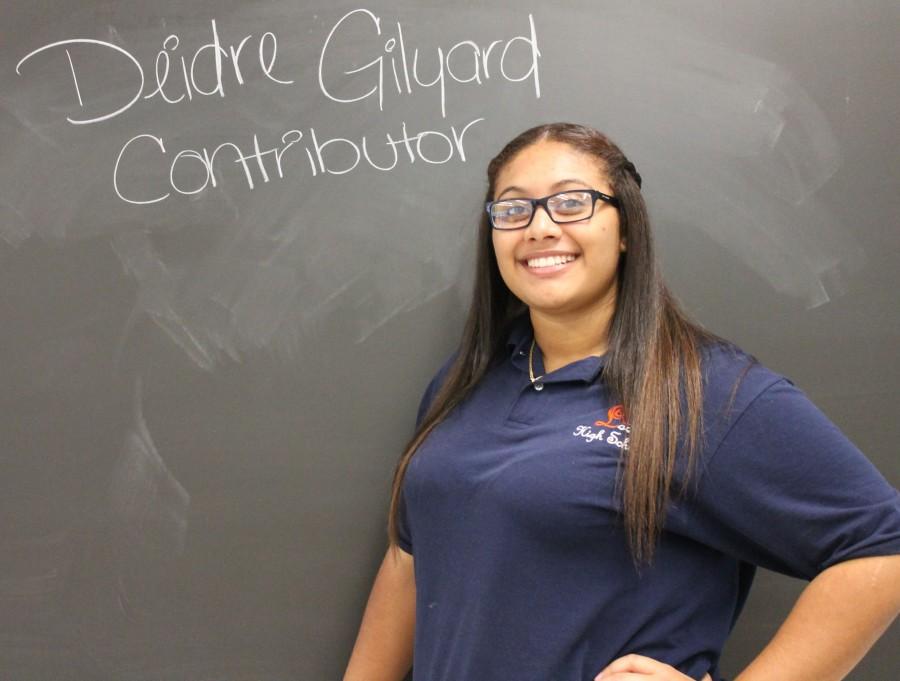 Q: What do you want to do after high school?
A: Go to college to be a Special Education teacher
Q: If you were stuck on an island with only three things, what would they be and why?
A: A boat so I could go home, gas for the boat, and I'm torn between a map or a lot of water.
Q: What kind of music do you listen to?
A: All kinds, but mostly pop.
Q: What's one thing you can never see yourself doing?
A: I can never see myself performing in front of a huge crowd.
Q: What's the best roller coaster you've ever been on?
A: Moby Dick because I've never been on big rides.
Deidre Gilyard, Author
Jun 18, 2015

Where In The World Is The Class Of 2015 Going?

(Story)

May 25, 2015

Placement Test Taking Tips!

(Story)

May 25, 2015

Dorm Shopping 101

(Story)

May 10, 2015

LHS Girl and Guy Code

(Story)

Apr 22, 2015

It's Almost Here… Prom!

(Story)

Mar 31, 2015

The Four Year Committment

(Story)

Mar 18, 2015
Mar 05, 2015

Listen Up Class of 2015!

(Story)

Feb 06, 2015

How To Have A Successful Relationship

(Story)

Jan 28, 2015

Today's Students, Tomorrow's Future

(Story)

Jan 15, 2015

The Post Holiday Blues

(Story)

Jan 14, 2015

Seniors Complete FAFSA!!

(Story)

Jan 12, 2015

Super Instant Decision Day 2

(Story)

Dec 22, 2014

The Best or Worst Gifts Given or Received

(Story)

Dec 10, 2014

Project Graduation

(Story)

Nov 25, 2014

How To "Deal" with Family Around The Holidays

(Story)

Nov 13, 2014

Super Instant Decision Day

(Story)

Oct 31, 2014

Washington School Halloween Parade!

(Story)

Oct 27, 2014

Home Life vs. Dorm Life

(Story)

Oct 08, 2014

Instant Decision Day Wrap Up

(Story)

Sep 25, 2014

Underclassmen 101

(Story)