Listen Up Class of 2015!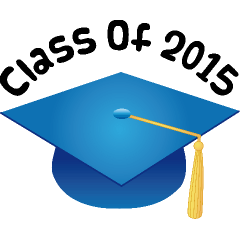 On Feb. 25, we interviewed Mrs. Orosz to ask her a few questions about what seniors should have done by now in the college process. She also included some tips for those who may be stressing and those taking placement tests.
– What should the seniors have done by now in the college process?
By  now seniors should have completed all college applications, college admission testing and FAFSA applications.  This is the time when students are starting to get admissions answers from colleges and financial aid award letters.
Seniors should be comparing their financial aid award letters to see which college makes most financial sense to them.  Also, be careful that the financial aid letter is not comprised of only loans.  Scholarships and Grants are FREE MONEY, loans have to be paid back after you graduate college.  Sometimes students get these confused and they think they are getting a free education but that aid can mostly be comprised of loans.
Seniors should also be scheduling visits with the colleges they are admitted to in order to make a better informed decision. Some colleges offer overnight visits and "Student for the Day" visits where prospective students can really get a sense of what it would be like attending that particular college.  I strongly recommend seniors schedule these visits.
May 1st is "National College Decision Day."  This is the day students have to submit their deposit which will secure their spot as an incoming first year student for that college.
– Any tips for stress?
I think the best way to combat stress is with preparation.  Completing the above tasks on time and doing your research in order to make the most informed decision possible will alleviate stress.  There is no doubt that this is a stressful time but try to remember that setting your post-secondary plans is an exciting and once in a lifetime experience.  Try to enjoy it along the way as well!
 – Any tips for students taking the placement test? And do the students get an excused absence?
When taking your placement tests please be sure that you bring all of the materials you will need to take the test.  If a calculator is permitted, be sure to bring one. Try your best and if you do not score well, it will be okay!  Many students have to take remedial classes in college.  They will prepare you for college work and they will be over before you know it!
Yes students get an excused absence.  You must get a request form signed by your parents, counselor, and Mrs. Y before the event.  Forms can be picked up in Guidance.