Today's Students, Tomorrow's Future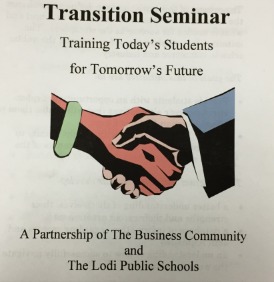 "An internship teaches you valuable work experience," says Mr. Le Conte, who is in charge of the student internship program here at Lodi High School. The program has been around for years, but not many students know about it. We sat with Mr. Le Conte to learn more about this program.  It's a great initiative that helps student get some work experience to put on a resume and to help them figure out a potential major.
Internships are unpaid and provided by Mr. Le Conte.
Typically, how long are internships?
Typically, they are five days a week and about two hours every day.
Are there qualifications to be able to participate in the program?
There is no certain grade point average or anything to be a part of this program. The student just has to remember they are still a Lodi High School student, and have to obey all rules, even if they are outside of school.
Can you do different internships when you're 18?
Some internships do require you to be 18 years old. The age minimum is required typically because of certain machinery and surroundings. Some companies won't let you work there until you are 18.
Can students get out of school early?
The internships typically let a student leave for periods 7, 8, and 9. They are still responsible for following rules; an internship is still part of the Lodi High School curriculum.
What if a student has a full schedule?
If a problem arises, any student should talk to Mr. Le Conte and he will try his best to see what he can do.
Are all the internship companies close by in distance?
Most of the internship companies are located in Lodi, typically because it will be easy walking distance for a student. But, if a student has a car, the options are broader.
Can you base your internship around what you want to do as a future career?
This is the whole point of the program! If any student has a certain job in mind, talk to Mr. Le Conte and he will help you secure a job that interests you.
What if you find out that your current internship is not for you?
That's perfectly okay if your job is not what you end up wanting. This whole program is designed to help students figure out a career path. You can change your mind as many times as you want.
Please talk to Mr. Le Conte as soon as possible if you're interested in this wonderful program!