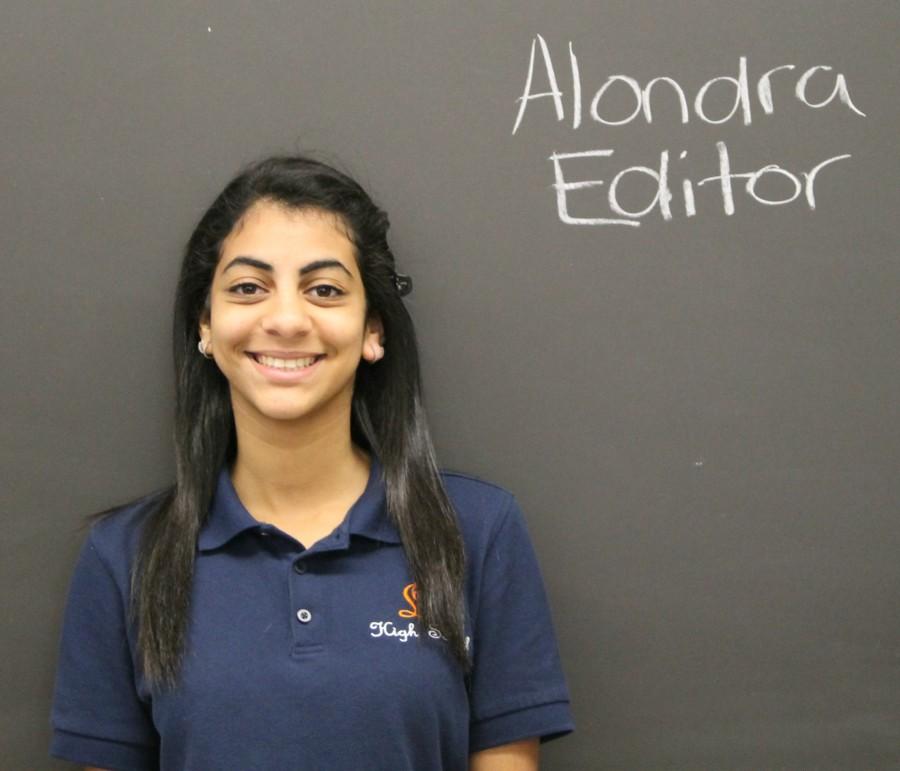 Q: Are you interested in any particular major?
A: Yes, I'm interested in journalism and/or communication
s
Q: Are there any colleges you're thinking about attending? If so, would you commute or dorm?
A: I like Monmouth and Montclair, and I would also like to dorm.
Q: What's your favorite class/who's your favorite teacher this year?
A: Digital Journalism is my favorite class so far and my favorite teachers are Ms. Sciarra and Mr. Sera.
Q: What will you miss most about LHS?
A
:
I'll miss the staff a lot. I love them.
Q: Would you rather fight one giant Mr. D'Amico OR a bunch of duck-sized Mr. D'Amico's?
A: I would probably fight the duck-sized ones. A huge Mr. D'Amico would probably kill me with one finger!
FUN FACT: I love Dunkin' Donuts
Alondra Sami, Editor
May 25, 2015
May 10, 2015
May 10, 2015

Top 10: 8, 7, & 6

(Story)

Apr 22, 2015

Top 10 Students: Issue 10 and 9

(Story)

Apr 03, 2015

Spirit Week/Ram Wars

(Story)

Mar 05, 2015

Sadies: The Thought That Counts

(Story)

Mar 05, 2015

Mame: Exclusive Interview with Directors

(Story)

Feb 12, 2015

DIY: How To Ask Someone To Be Your Valentine

(Media)

Jan 15, 2015

Goodbye to 2014 and Hello to 2015!

(Story)

Dec 22, 2014

DIY: How To Build A Gingerbread House

(Story)

Dec 11, 2014

Road to the Future

(Story)

Nov 25, 2014
Nov 25, 2014

DIY: How To Stuff A Turkey

(Story)

Nov 13, 2014

Lodi High School's Newest Edition: The Listening Room

(Story)

Oct 31, 2014

DIY Costume: Become a ghost in 3 easy steps!

(Story)

Oct 12, 2014

R-E-S-P-E-C-T! Find out What it Means to Us!

(Story/Media)

Oct 12, 2014

You've Been Served

(Media)

Sep 25, 2014

Student Gov. Advisor: Mr. Galvin

(Story)

Sep 25, 2014

Junior Class Advisor: Ms. Garcia

(Story)

Sep 25, 2014

Senior Class Advisor: Mrs. Orosz

(Story)

Sep 25, 2014

Freshman Class Advisor: Ms. Policastro

(Story)