Somewhere Over the Rainbow
The 1970s is a decade known as a party full of exploration without explanation; a time where the people were all about discovery. The '70s were colorful and innovative. The world stood at its most creative precipice of all time. The '70s also brought non-heterosexual sex into the spotlight. In 1969, when a gay bar in New York was raided by police, protests erupted and what became known as the Stonewall Riots became the formative moment of gay rights that would continue to grow into the following decades. For gay, lesbian, bisexual, and transgender Americans, it was an era of increasing awakening and visibility, as well as backlash and persecution. In 1970, the first gay pride parade was held to commemorate the Stonewall Riots, and in 1973, the American Psychiatric Association finally saw fit to remove homosexuality from its official list of mental disorders. During that time, a self-described "geeky kid from Kansas" named Gilbert Baker came to San Francisco as an Army draftee.
After an honorable discharge, he stayed in San Francisco, free to pursue his dreams of being an artist. He learned to sew, making all the fabulous clothing that he wanted but couldn't buy. In 1974, Baker's life changed forever when he met Harvey Milk, who showed him "how action could create change." Three years after they met, Milk challenged Gilbert Baker to develop a symbol of pride for the gay community, a positive proxy to the pink triangle.  Baker began dying fabrics himself and, with the help of other young activists, stitched together eight strips of vivid color into a huge banner that said everything any gay, lesbian, bisexual, or transgender was feeling deep inside them all their life.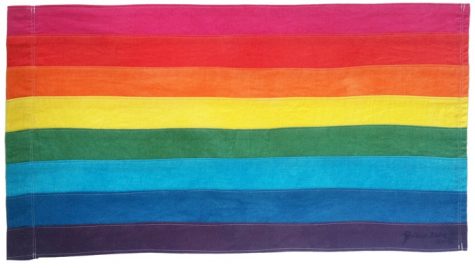 Hot Pink stands for sexuality
Red for life
Orange for healing
Yellow for the sun
Green for nature
Turquoise Blue for art
Indigo for harmony
Violet for spirit.
"It all goes back to the first moment of the first flag back in 1978 for me. Raising it up and seeing it there blowing in the wind for everyone to see. It completely astounded me that people just got it, in an instant like a bolt of lightening – that this was their flag. It belonged to all of us. It was the most thrilling moment of my life. Because I knew right then that this was the most important thing I would ever do – that my whole life was going to be about the Rainbow Flag," said Baker while reminiscing the moment his new flag was first raised at the San Francisco Gay Freedom Day Parade in June of 1978.
Gilbert Baker recently died in his sleep at his New York City home at the age of 65.  He will always live on as a symbol of gay activism and solidarity for the LGBTQ community for years and years to come.
For more information about Gilbert Baker and the origins of the gay pride flag check out http://www.sftravel.com/article/brief-history-rainbow-flag
About the Contributor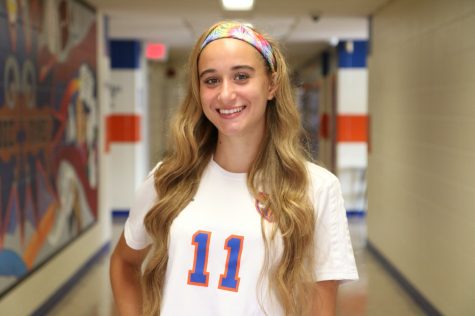 Amanda Najbar, Editor
Q:What are three words you would use to describe yourself? A:Amanda describes herself as an open minded, creative, and positive person.

Q:What do you...