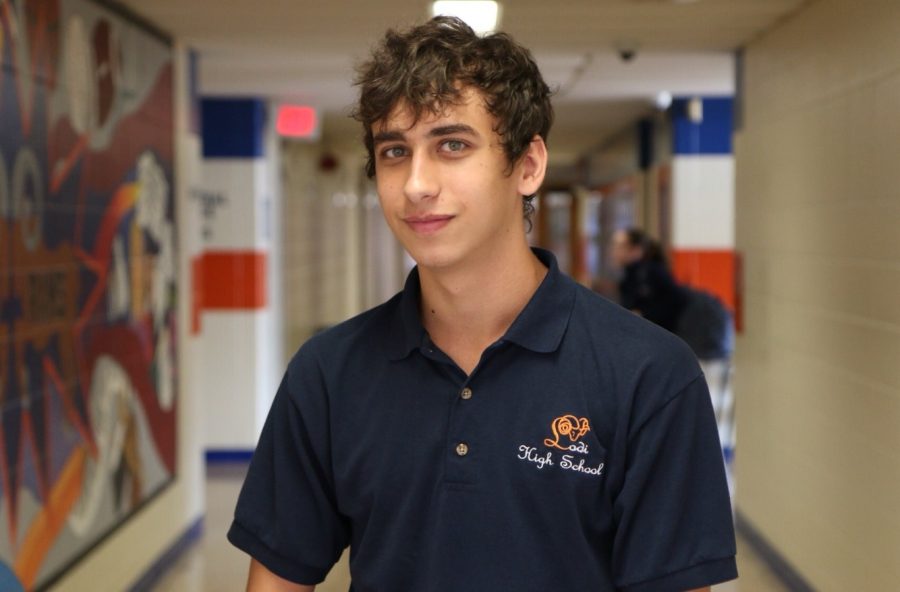 Q: What is your favorite thing about LHS?  
A: Kyle's favorite part about LHS is the people. "You get a little bit of everything around here, and everyone is always having a good time. I especially find this in band. You get everyone's interpretation of music and their ideas, along with a variety of people with varying opinions."
Q: What advice would you give to a freshmen? 
A:"Don't try to act cool, no one is going to think you are until you're a senior, so just be yourself."
Q: What are you most excited about this upcoming year in Rampage? 
A: Kyle is most excited to have the opportunity to meet people in the school and share their stories. Also, covering the art section of the Rampage, he is eager to expose some otherwise unappreciated and unnoticed art.
Q: Which instruments do you play?
A: Although he has not fully mastered all of these instruments, Kyle is well on his way: B
ass, Recorder (Sapradino, Soprano, Alto), Piano, Flute, Clarinet, Guitar, Ukulele, Trombone,  Saxophone (Alto, Tener, Bari), and Drums...that's it for now.
Q: Why is music so important to you?  
A:"Most of my family is rather artistic which is where my interest stemmed from. There are different mediums of art, but I find music is where I find I can express myself most easily and connect with other musicians like myself. Something inside me is drawn to music; it is something I truly love and connect with.
Q: If you could only play three instruments what would they be? 
A:"Alto Sax, Clarinet, and Flute; you know, just in case I decide to throw together a Broadway show while stranded on an island."
Interviewed by Gia Manno
Kyle Crouchelli, Author
May 19, 2017

Epic Rap Battles of LHS: Volume III

(Media)

May 05, 2017

Epic Rap Battles of LHS: Volume II

(Media)

May 05, 2017
Apr 13, 2017

Epic Rap Battles of LHS

(Media)

Mar 30, 2017

The Weird and Wacky Fast Food Taste Quest!

(Media)

Mar 09, 2017

Voter ID Laws: When the Law Goes Bad!

(Story)

Feb 14, 2017

Valentine's Day Taste Test

(Story)

Jan 19, 2017

Guilty or Innocent? LHS Mock Trial

(Story)

Dec 23, 2016

A Very Merry Ugly Christmas Sweater

(Media)

Dec 23, 2016
Dec 23, 2016

Christmas Cooking with Ms. Earle

(Media)

Dec 22, 2016

11th Day of Christmas

(Media)

Oct 30, 2016

The Wacky and Weird Candy Taste Test

(Story/Media)

Oct 13, 2016

A Million New Sounds for 22 A Million

(Story)

Sep 18, 2016

There's a Rodent in the School!

(Story)