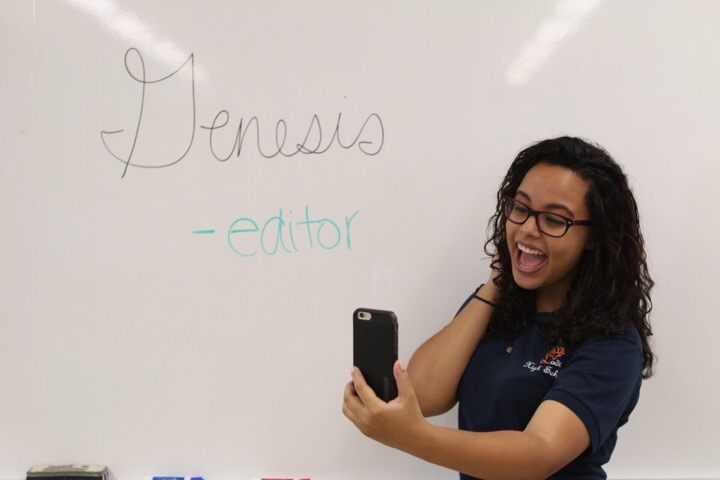 Q: If you could be any animal, which would you be and why?
A: I would be a prairie dog. They're super cute, so why not?
Q: What do you plan on doing after high school?
A: I want to go to college, preferably St. John's or Montclair, and study criminal justice. My main goal is to go into law enforcement and become an FBI agent. Go big or go home, ladies.
Q: Describe yourself in five words:
A: I would describe myself as loud, funny, dedicated, optimistic, and cats. I am very dedicated towards my friendships and the tasks at hand. I always make sure that my friends and everyone around me are happy and having a good time, no matter how loud or annoying I might get. Also, I love cats.
Genesis Mendez, editor
Jun 21, 2016

Teacher Superlatives

(Story)

Jun 20, 2016

Friendships of Lodi High School

(Story)

Jun 20, 2016

Where It All Ended: Lodi High School

(Story)

Jun 05, 2016

Humans of Lodi High School: Episode 17

(Story)

Jun 05, 2016

Where It All Began: TJMS

(Story)

Jun 05, 2016
Jun 05, 2016

Canni's Corner: Prom

(Story)

May 19, 2016

Humans of Lodi High School: Episode 16

(Story)

May 19, 2016

Teachers Go Back to Prom

(Story)

May 08, 2016

Painting a Legacy

(Story)

May 08, 2016

Humans of Lodi High School: Episode 15

(Story)

Apr 21, 2016

Back to Where it Began: Roosevelt School

(Story)

Apr 21, 2016

Humans of Lodi High School: Episode 14

(Story)

Apr 02, 2016

Duralife Unlocker Challenge: VOTING REQUIRED

(Story)

Mar 31, 2016

Humans of Lodi High School: Episode 13

(Story)

Mar 17, 2016

Do You Believe in Luck?

(Story)

Mar 17, 2016

Humans of Lodi High School: Episode 12

(Story)

Mar 03, 2016

Where it All Started: Columbus School

(Story)

Mar 03, 2016

Here at Lodi High, We All Love Mrs. Y

(Story)

Mar 03, 2016

Humans of Lodi High School: Episode 11

(Story)

Feb 11, 2016

Couples of Lodi High School: Valentine's Day Edition

(Story)

Feb 11, 2016
Jan 31, 2016

Humans of Lodi High School: Episode 9

(Story)

Jan 14, 2016
Jan 14, 2016

Humans of Lodi High School: Episode 8

(Story)

Jan 14, 2016

Where it All Began: Wilson School

(Story)

Dec 22, 2015

Story Time with Tarleton

(Story)

Dec 22, 2015

Humans of Lodi High School: Holiday Edition

(Story)

Dec 22, 2015

Canni's Corner: Ft. Duncan for the Holidays

(Story)

Dec 10, 2015

Back to Where it Began: Washington School

(Story)

Dec 10, 2015

Humans of Lodi High School: Episode 6

(Story)

Dec 10, 2015
Dec 10, 2015

The Sibling Games

(Story)

Nov 24, 2015

Canni's Corner: Duncan Edition

(Story)

Nov 24, 2015

Selfie Column: Thanksgiving Edition

(Story)

Nov 15, 2015

Senior Students in the Workplace

(Story)

Nov 15, 2015

Humans of Lodi High School: Episode 4

(Story)

Nov 15, 2015

Project Graduation 2016

(Story)

Oct 30, 2015

DIY: Halloween Costume

(Story)

Oct 30, 2015

Monsters of Lodi High School: Halloween Edition

(Story)

Oct 30, 2015

Canni's Corner: Powderpuff

(Story)

Oct 15, 2015

Humans of Lodi High School: Episode 2

(Story)

Oct 15, 2015
Oct 15, 2015

Back to Where it Began: Hilltop School

(Story)

Oct 01, 2015
Oct 01, 2015

Humans of Lodi High School

(Story)

Sep 09, 2015

Message to My Freshman Self

(Story)