Mid-Season All Stars
With the winter sports season at its midpoint, the Rampage conducted interviews with the coaching staff of each respective sport to recognize and appreciate the efforts of their standout players so far this season.
Competition Cheer:
Although the cheerleaders have yet to compete, the girls have been working non-stop preparing for their competitions. For Most Improved Athlete, coaches awarded this to  Francesca DiPasqua. Fran has recently took on a role as a flyer and as her coach says, she has transitioned almost seamlessly. Coach Scimeca says, "She has worked tirelessly to acquire new skills and is determined to do her best. Fran has become an incredible asset to our team and I look forward to watching her continue to grow and improve." The Best Sportsmanship award has been awarded to Genesis Caro. Genesis always does what is asked of her with a positive attitude, and as Coach Scimeca says, "Whether we win or lose, whether a practice goes well or not so much, I can always count on Genesis to set a positive example for her peers." Next there is the Best Facial Expressions award; this award definitely has several contenders but out of all the girls, Rachel Leto takes it. For every performance, Rachel steps up and as her coach says, "Any time I look in her direction I know I will be met with enthusiasm and energy." Lastly, there is the Best Jumps award and that is awarded to Desiree Bermudez. Coach Scimeca says, "Desiree has had incredible jumps since I coached her in fifth grade. She simply has a natural ability." She then continues by saying, "Over the years, they have become even more impressive as she has learned to combine both height and grace with control and poise." Congrats to all the recipients! Continue to keep working hard, girls!
Wrestling:
Head Coach, Mr. Maggio has awarded, Junior, David Pena the Most Improved athlete of the season so far. This is David's first year on varsity and he has been working tirelessly to earn his spot. Maggio says, "David has won six varsity matches as a first year varsity wrestler." So far this season, Junior, Chris Caban leads the team in wins and pins. Chris has recorded eleven pins and has an overall record of 16-2. Lastly, there is the Best Sportsmanship award. Maggio has awarded this to two athletes: Freshman Sean Tocci and Senior Michael Dios. Maggio says, "Both boys exemplify great sportsmanship on and off the mat." He then adds that they are both "Continuing their journey by putting in extra work in time for the post season." Congrats to all recipients! Best of luck to all athletes for the rest of the season!
Boys Basketball:
Coach Siconolfi named Stephen Almonte as being the most improved player so far this season. Although Coach Siconolfi has only coached Stephen this year and has not seen him evolve over the years, he stated, "I was able to observe a significant improvement from the start of the season. Now, at the midway point, I can say Stephen has refined his overall game. Stephen is setting a great example for the underclassmen as well, mentoring them and putting extra time in after practice to develop his offensive game." Stephen's efforts are a critical component to the success of the team. Stephen is not hesitant to express his emotions off the court, and is a vocal leader in the locker room, as described by his teammates. "Stephen is arguably our best on-the-ball defender. Stephen doesn't care about flare or scoring points, and takes pride in his defensive prowess. His defensive effort has been consistent throughout the season and will only get better as he matures. His recognition is well deserved."
"When asked who I feel the mid-season Leading Scorer/MVP is, one name comes to mind, Melvin Florian. The four year varsity point guard/shooting guard is a very special player. It is apparent Melvin has a love for the game and it shows every day he steps foot in the gym." The team has played Melvin in a number of different schemes so far this season because of his ability to see the floor. Coach Siconolfi describes Melvin as a tremendous passer of the ball, but states that Melvin's best attribute would have to be his ability to shoot. Melvin averages around 22 points a game with a lot of his success coming from behind the arc. "Melvin is usually the first one in the gym and certainly the last one to leave. If Melvin could sleep in the gym I know he would," said Coach Siconolfi.
Girls Basketball:
So far into the season, Sara Papraniku was selected as the most improved player for the girls basketball team. The sophomore forward/guard has proven herself to both, Coach Romeo and the rest of her team. "Sara was chosen for most improved at this time in the season because she has worked hard and has proven that she deserves a chance to be in the starting five," said Coach Romeo. Sara has stepped up and hit keys shots when needed and is gaining more confidence with each game that passes.
The leading scorer for the Lady Ram, with an already impressive 102 points to her name this season, is Lila Reginald. "Lila is our forward/center/guard, however she is capable of playing every position on the court and does so well," mentioned Coach Romeo. "Lila's most impressive game came against Mary Help of Christians where she scored 25 points. She scored by being aggressive and taking it to the basket, moving to open areas on the court, and steals that she took on her own."
We wish nothing but the best for these players and their individual teams throughout the rest of their season. Go Rams!
About the Contributor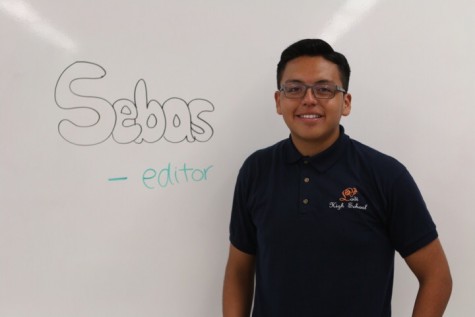 Sebastian Esquivel, Editor
Q: How would you describe yourself in five words?
A: I'd say I am tenacious, diligent, compassionate, honest, and responsible.

Q: What are you plans...