Safyre's Christmas Wish
Young, Safyre Terry has a sad story that dates back to two years ago, when someone set fire to her family's apartment. This fire killed her father, David Terry, and Safyre's three younger siblings who were all under three years of age. Being the only survivor at the age of six years old, Safyre didn't come out of this disaster unscathed. She suffered burns on over 75% of her body. For the past two years, Terry has been recovering mentally, physically, and emotionally. Safrye lost her left foot and right hand and had to undergo more than 50 surgeries to graft skin over her burns. She now is under the custody of her aunt, Liz Dolder.
This Christmas, Safyre only wanted one gift. She wanted to receive Christmas cards from whoever wanted to send them. So far, she has received over 430,000 Christmas cards from all over, including from celebrities and athletes.
Lodi High School clubs decided to be a part in making this little girl's wish come true. The Key Club, Interact Club, Diverse Cultures Club, and Respect Crew came together on Thursday, Dec. 17, to write as many Christmas cards as possible showing her their full support and sending some of their love her way. You can send them to her too! Don't think she doesn't read them, because every single card and gift gets opened.
To participate in making Safyre's Christmas wish come true, mail your cards to the below address:
Safyre Terry, P.O. Box 6126, Schenectady, New York, 12306.
About the Contributor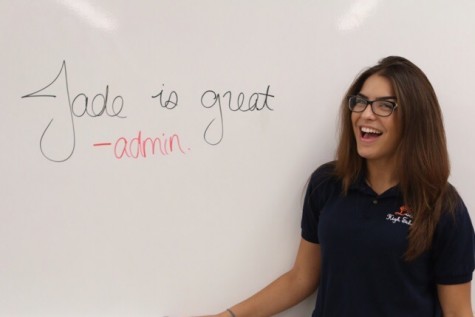 Jade Alameda, admin
Q: If you could be any animal, which would you be and why?
A: I'd be a panther, because they're so graceful, fast, and fierce.

Q: How would you describe...